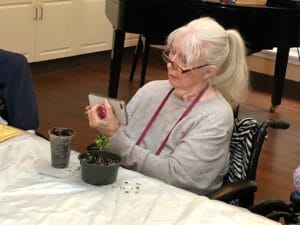 Whether it's taking photos, making pottery, writing, gardening or painting, Rowena Andrews has always been the creative type.
A former advertising and public relations executive from Kensington, Georgia, Andrews enjoys bringing her ideas to fruition through various art forms.
"When I get started with an idea or project, I need to finish that feeling," she said.
Throughout her career, Andrews used her creative talents on high-profile advertising and public relations-related projects including one with NASA, which is fitting given Andrews' childhood career aspiration.
"When I was younger, I wanted to be an astronaut," she said.
Andrews spent much of her career in Los Angeles and was the first woman to become Executive Director of the LA Advertising Club. Even today, Andrews pays close attention to the ads she sees.
"I critique ads in my head," she said. "I don't mean to do it, but I can't help it."
Given her expertise and interest in communicating through images, it's not surprising that Andrews is an avid photographer. Her room at A.G. Rhodes is decorated with various photographs she's taken, including many beautiful images of her daughter as a child and through adulthood.
"I got interested (in photography) when I thought about the power you have to freeze a moment in time," Andrews said.
At A.G. Rhodes, Andrews combines her love of photography with her love of horticulture, particularly flowers. Since a local Trader Joe's began donating flowers to A.G. Rhodes' Horticultural Therapy program, Andrews enjoys arranging the flowers and photographing them.
"Ms. Andrews shows other residents how creative you can be," said Kirk Hines, A.G. Rhodes' Horticultural Therapist. "While she's participating in Horticultural Therapy, she's also participating in other art forms when she photographs the plants and flowers we use in the session and applies different filters to highlight various features. It's been wonderful to see her so engaged, and to see the beautiful photography that results from her artistic expression."
Andrews acknowledges how meaningful this has been.
"When I get depressed or feel bad, I can pick up a camera and take a picture of something—like horticultural therapy—and it just goes away," Andrews said. "People have noticed how much happier I am. It helps me get out of my room."
Thank you to Trader Joe's of Midtown for its generous weekly flower donations to support the Horticultural Therapy program, and the residents at A.G. Rhodes.
Oct. 25, 2019