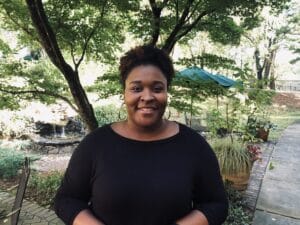 Roselyn Charles, Admissions Director at Cobb, didn't set out to work with older adults when she began her nursing career 18 years ago. In fact, her childhood dream was to become a pediatrician.
"When I went to my high school, I found out they had a nursing program," Roselyn said. "I thought it would be a great stepping stone to become a physician not knowing that it was two different worlds. After I did it, I liked it and decided to stay the path of nursing."
Roselyn—who was born in St. Croix and grew up in New York— became a Licensed Practical Nurse (LPN) when she as 18, and originally planned to work in a hospital setting. But the high school nursing program where she earned her LPN had a partnership with a local nursing home, and when she graduated high school, they offered her a job.
"It was another stepping stone to where I thought I wanted to be, but again, I found out that I liked it and ended up staying there for a few years and enjoying it."
Roselyn says she likes the long-term care setting because, "You get to know them [the residents], get to know their families, and build a relationship with them."
About nine years ago Roselyn, along with her kids, mother and grandmother, moved to Georgia where some of her other family members lived. She earned her Registered Nurse (RN) degree, and about six years ago she came to A.G. Rhodes Cobb where she started as an RN Supervisor. Since her time at A.G. Rhodes, she also worked as the Hospital Liaison before becoming the Admissions Director about a year ago.
"I think a lot of people who start out in a certain position at A.G. Rhodes have been able to move into different positions," said Roselyn. "It's great because A.G. Rhodes looks internally to see who's qualified to do the job before they look externally."
Roselyn says she really enjoys the work environment at A.G. Rhodes.
"I enjoy the interaction and family-like atmosphere," she said. "This really has become my second home. I spend a lot of time here. Some of my closest friends work here, and the residents are great."
Roselyn wishes more people would recognize that a long-term care setting can be a bright, positive place, and that it's also a great place to work.
"It's really a lively environment," Roselyn said.
She also wants residents and families to know that many long-term care settings like A.G. Rhodes make many efforts to create a welcoming environment.
"I want them to know it's a safe place and it is ok to be here," she said. "You have a voice here. You tell us what you want, tell us what you like. We're going to make this your home like it's supposed to be."
More about Roselyn:
In February, Roselyn earned her Bachelor's of Science in Nursing (BSN). In her free time she enjoys spending time with her family including her 10-year-old twin sons, 14-year-old daughter, mother, grandmother and brother who all live with her. She also likes to spend time with friends, and she enjoys traveling the globe.
November 2019