During the month of April, the A.G. Rhodes homes held volunteer appreciation events, and highlighted volunteers and groups that make a lasting impact on our residents, staff and our community. Below are a few photos and highlights.
Pet Therapy
We are grateful to our pet therapy volunteers who bring in their pets to spend time with residents.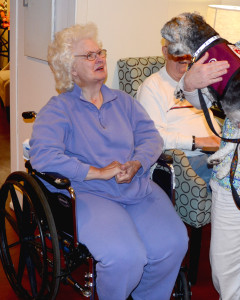 Marcie Gilmour, a Pet Therapy volunteer at our Cobb home, started volunteering with A.G. Rhodes through Therapy Pets International. Along with her dog, Karma, she has been a wonderful addition to the A.G. Rhodes volunteer family. From Marcie:
"Talking and spending time with the elderly is very fascinating to me. Hearing about their lives and what they have seen is something that you can't find in any book. I could sit and talk all day with them if I could. When I adopted Karma from a shelter where my father and I lived, Karma just loved being with him, Karma would walk really slow beside my father and then I thought, 'what a great idea to have her become a therapy dog then we could both give the residents what Karma and I were meant to do.' I encourage everyone to just go and talk to the residents; you will be amazed by them."
Hands On Atlanta Civic Leadership Program (CLP)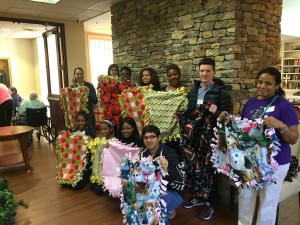 The Hands On Atlanta Civic Leadership Program is an opportunity for Civic Leaders to further their own personal and professional development goals by mobilizing volunteer teams to complete monthly service projects with Hands On Atlanta nonprofit partners, such as A.G. Rhodes. Having consistency in volunteer leadership is invaluable to our staff and residents.
From Patricia Ochuko, a volunteer leader who oversees service projects every month at our Wesley Woods home:
"I volunteer because it opens up a whole new world to me in encountering new friends and building new relationships, learning and increasing new skills, building a wholesome community and simply feeling fulfilled. It's in giving that we receive. My 'go-to' activities are those with direct contact, particularly with children and the elderly. My hope is that when my time comes, someone will reach out to me. The seniors at A.G. Rhodes are a joy to work with and why I will continue to volunteer with them even after my CLP term ends."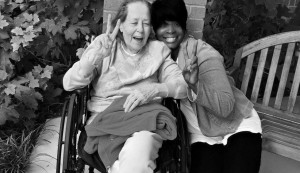 From Deneil Jennings, a volunteer leader at our Atlanta home:
"It gives me pleasure to see [the residents] active, smiling and living meaningful lives. So many times they have shared wisdom and added fun to my day. It has also taught the girls I mentor leadership skills and a more complete sense of value and relevance. Oftentimes, we take things for granted, but through this [CLP] program, I've become more patient, appreciative, and inspired to do more for my community."
Alternative Spring Break Program
Throughout the spring, students from the University of Florida, University of Connecticut and University of California-San Diego spent a few days of their spring break volunteering at A.G. Rhodes as part of Break Away's Alternative Spring Break Program. Break Away is a national nonprofit organization that promotes the development of quality alternative break programs through training, assisting, and connecting campuses and communities.
From Lance Hsieh, Group Leader of the USC San Diego group:
"Volunteering with older adults is one of the most rewarding experiences because you learn so much about a person that you could never imagine. The residents at A.G Rhodes have personally reminded me that there is more than meets the eye. All it takes is a minute of conversation and you realize how truly amazing all of these older adults are and how many exciting stories, experiences and lessons they have. It can be easy to cast away an older generation, but we believe that everyone is special and we wanted to be able to make the residents and everyone else at A.G. Rhodes see just how wonderful they all are."
Youth Volunteers
Having children in the homes brings so much joy to the residents, teaches the children compassion, and how even small gestures can go a long way towards connecting with others. Some of our youngest volunteers are from the Atlanta Homeschool Cooperative (AHC) in Grant Park. The students are ages 6-12 years old and come once a month to our Atlanta home to help with arts and crafts, sing, and spend time with the residents. From Leanna Ampola, ANC Group Leader:
"Volunteering over the past several months has enabled AHC children to form intergenerational bonds. Though the elders may seem different on some levels, I think the children have been able to see how similar they are in so many ways. Each month gets more fun as the two groups come together to share life stories and make new memories together. The children look forward to seeing their special friends, and each month the bonds grow deeper. It is a beautiful thing to watch unfold."
Residents turned Volunteers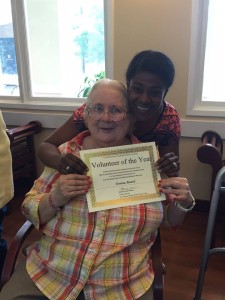 Many of our residents are some of our most dedicated volunteers. Resident Donna Beard was awarded Wesley Woods Volunteer of the Year in a recent heartfelt presentation.
Donna assists the activities staff, delivers papers to other residents and helps out around the home in many other ways.
Horticultural Therapy and Music Therapy Volunteers
Horticultural Therapy and Music Therapy are two of our most popular programs, and volunteers greatly contribute to their success.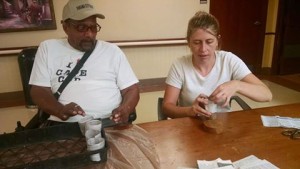 Francisca Otero is a volunteer with Horticultural Therapy. Francisca came to Atlanta in 2012 from Chile and is now studying to be a Horticultural Therapist herself. From Francisca:
"What I enjoy the most about volunteering with the Horticultural Therapy Program at A.G. Rhodes is to see the residents admiring the gardens while exercising, socializing while they contemplate it through the window, or harvesting blueberries under the sun. It inspires me to see their attention and dedication when they work with plants in the horticultural therapy sessions. I can recognize the huge impact that the garden and the horticultural therapy activities have in their lives, and because of that I am happy to be part of it."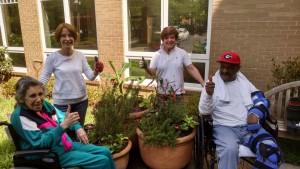 We are grateful for the Pine Tree Garden Club's ongoing support in providing us plants and flowers, and spending time gardening with our residents at Wesley Woods during their Horticultural Therapy sessions.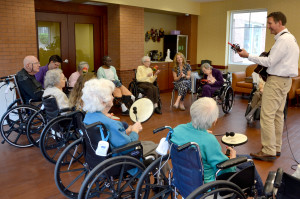 Author and blogger Rachel Stafford recently volunteered with our Music Therapy program and wrote an account of the experience on her blog.
Corporate Volunteers
We are grateful for the many companies that spend time at A.G. Rhodes as part of their workplace volunteer programs. Here are just a couple.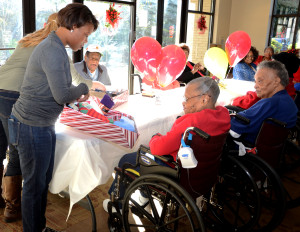 Atlanta's CW and Focus Atlanta collected and distributed comfortable and festive socks to our residents during the holidays.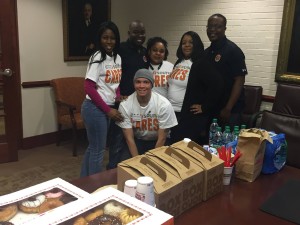 The homes held various activities and events, and hosted volunteer groups, to recognize Martin Luther King, Jr. Day in January and to honor the contributions of Dr. King. Pictured is a volunteer group from Gas South.
Volunteer Appreciation Events
During the month of April, we celebrated our volunteers at each home with a meal, gifts and words of thanks. According to the Independent Sector's value of a volunteer hour, since July 2015: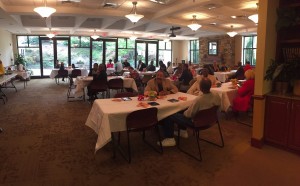 The volunteers at A.G. Rhodes of Atlanta have given more than 3,000 hours of service to our staff and residents. That's the equivalent of almost $80,000 of donated hours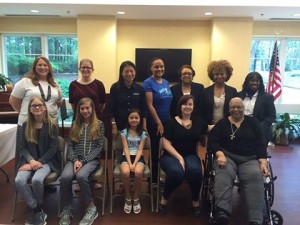 Cobb volunteers have given over 600 hours of service to our staff and residents. That's the equivalent of more than $28,000 of donated hours.
Wesley Woods volunteers have given over 860 hours of service to our staff and residents. That's the equivalent of more than $51,000 of donated hours.
Thank you to all of our volunteers who give so much to A.G. Rhodes. For more information about volunteering, or if you're interested in becoming a volunteer, click here.