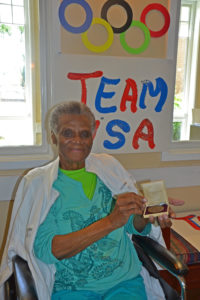 It's not every day you meet a former U.S. Olympian, but at A.G. Rhodes, we have the pleasure of meeting some incredible people with amazing stories, such as Isabelle Daniels Holston. Holston won the Bronze Medal with her teammates in the 4 x 100 meter relay at the 1956 Summer Olympics in Melbourne, Australia.
Following her successful, competitive track and field career, Holston spent 35 years as a health and physical education teacher and coached girls' basketball and track. She led her teams to numerous championships, and she was recognized with multiple coaching awards.
In 1987, Holston was inducted into the Georgia Sports Hall of Fame. Click here to read about the accomplishments that led to her induction.
Holston passed along her love of running to her daughters and granddaughter, who all participated in track and field. One of her daughters recently wrote a children's book, "Tweety," which was inspired by her mother's journey.