August 7, 2017-A.G. Rhodes Homes Receive National Award
Posted on August 7, 2017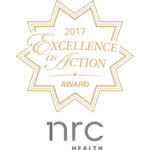 All three of the A.G. Rhodes homes received an Excellence in Action Award, which is a national honor recognizing organizations that achieve the highest overall resident or employee satisfaction scores in the NRC Health database–the largest source of long-term care and senior-living satisfaction metrics in the nation.
Our Atlanta home received the award for its resident satisfaction scores, our Wesley Woods home received the award for its employee satisfaction scores, and our Cobb home received the award for both its resident and employee satisfaction scores.
"The Excellence in Action award is a testament to the overall quality being provided throughout our homes" said Deke Cateau, A.G. Rhodes Chief Operating Officer. "This award shows the importance of focusing on what matters most to our residents, families and employees."
To receive the award, qualifying skilled nursing, assisted living, and independent living communities must have completed a customer or workforce satisfaction survey in 2016. Winners must also have received a minimum of 10 responses (achieving a response rate of at least 30 percent). Their overall responses must have scored the organization within the top 10 percent of qualifying assisted living and independent living facilities and the top 20 percent of qualifying skilled nursing facilities on either the question, "What is your recommendation of this facility to others?" or the question, "What is your recommendation of this facility as a place to work?"
Click here for more information about the award.