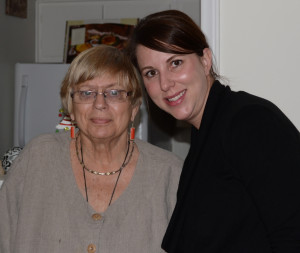 For the first time in three years, 69-year-old Pam Lane is celebrating the holidays at home.
In November 2010, Lane suffered a severe stroke which paralyzed the left side of her body and left her unable to walk or eat on her own.
"I was very active, then I had a stroke," said Lane. "I don't remember anything."
Lane would need around-the-clock care. Her niece brought her to A.G. Rhodes Health & Rehab, a skilled nursing facility in Cobb County, Georgia.
"She liked it because she said it was nonprofit, and because she saw people outside and she knows I like to go outside," said Lane.
Her family, and even some staff at A.G. Rhodes, were skeptical that Lane, who was a practicing real estate agent prior to the stroke, would ever return to an independent living situation again. But Lane, an extremely determined and motivated patient, proved them wrong. After more than two and a half years at A.G. Rhodes, in August 2013 she left to live on her own.
Jennifer Gilbreth, Director of Rehabilitation at A.G. Rhodes of Cobb, and her staff worked with Lane during her recovery. It was an intense and lengthy process, but Gilbreth recalls Lane's determination.
"She was on therapy and continued making improvements," said Gilbreth. "As she met different goals, she gained more and more independence. Ms. Lane is very motivated so she did a lot on her own to further her progress."
"I wanted to get home," said Lane.
Lane moved from her three-bedroom house to a one-bedroom condo, and her living space was adapted to accommodate for her new, post-stroke life.
Staff from A.G. Rhodes went to the condo shortly after Lane purchased it to make recommendations for modifications that would allow Lane to safely and comfortably live on her own. Among several adjustments, her bathroom door was widened to accommodate a wheelchair and a small sunroom was leveled to remove a step.
The renovations were made possible by Money Follows the Person, a program that enables people like Lane to receive support services so they can live in their own homes and communities. The program is funded by a grant from the Centers for Medicare and Medicaid Services.
As part of the program, an aid comes in every day for a few hours to help Lane, but Lane pushes herself to get stronger on her own. She walks some every day and continues doing various exercises she learned at A.G. Rhodes. She's seen improvements.
"I'm getting a little more use out of this arm," said Lane.
Not only is Lane happier to be on her own again, but her care is less expensive. Money Follows the Person costs her about $350 a month compared to more than a $1,000 a month that 24/7 care cost her.
Some staff members from A.G. Rhodes still keep in touch with Ms. Lane to see how she's doing.
"She's been extremely successful with establishing a new routine, and following safety and other recommendations from therapists and aids," said Gilbreth. "It's gratifying to all of us at A.G. Rhodes to see how far she's come."
Lane, who spends her time on the Internet, talking with friends on the phone, watching television and going on outings to restaurants, the grocery store or the salon, is looking forward to making more progress. She is hopeful that she'll be able to take the driving test soon so that she can leave her house on her own.
"I'm not ready to do it yet I know, but hopefully by next Spring I'll take the test," she said.
When asked what advice she'd give to someone who faces a similar situation as hers, without hesitation Lane replied, "Never give up."