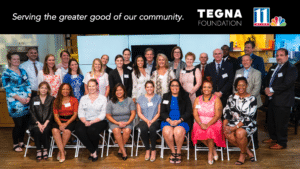 Two recent grants awarded to A.G. Rhodes Health & Rehab will be used to enhance the quality of life for elders who stay in the A.G. Rhodes homes.
The organization received a $125,000 grant from the R. Howard Dobbs, Jr. Foundation to support A.G. Rhodes' transformation to person-directed care, an initiative to move from a medical model of care to one that is more homelike and accommodating of elders' preferences. The funds will enable renovations at A.G. Rhodes' Cobb location, which will promote a better environment and quality of life for people as they age.
The TEGNA Foundation and WXIA-TV (11Alive) awarded A.G. Rhodes a $3,000 grant for digital equipment which will be used at our Atlanta home. A.G. Rhodes was one of 16 local nonprofits awarded grants at a reception held at TEGNA's Atlanta television station, 11Alive, in early August.
"We are so thankful to these generous foundations for making a commitment to improve care for older adults in this community," said Deke Cateau, A.G. Rhodes' CEO. "Atlanta is the nation's fastest aging city, and community support is critical for a provider like us to accommodate the needs of the growing number of older adults who rely on our services."