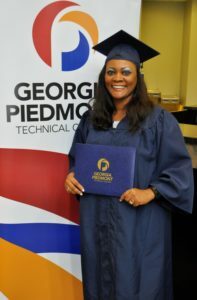 Employee spotlights feature exceptional A.G. Rhodes employees doing exceptional work throughout the organization. Our latest spotlight features Roschelle Hughes, the front desk receptionist at our Wesley Woods Home.
"As one of the first people that many family members and visitors meet when they enter our building, Roschelle gives such a positive impression of A.G. Rhodes with how helpful and friendly she is to everyone," said Greg Heath, Administrator of A.G. Rhodes' Wesley Woods location. "In an industry where customer service is so important, Roschelle goes above and beyond to answer questions and reassure people that we taking great care of their loved ones."
Where are you from?
I grew up in a small town called Glennville, Georgia then moved to the Atlanta area in 2012.
What does your job entail?
I am responsible for the front office reception and administrative duties, including greeting guests and offering them a beverage, answering phones, handling company inquiries and sorting and distributing mail.
How long have you been working at A.G. Rhodes/working in the long-term care industry?
I have been employed six years at A.G. Rhodes but I have been a Certified Nursing Assistant (CNA) for 19 years.
What led to your interest/employment at A.G. Rhodes?
When I was looking for employment before moving to Atlanta, the website for A.G. Rhodes was so friendly and after seeing the place, I knew it was the place for me.
What's the best part about your job?
The smiles and kind words I get from residents and their families, and getting the opportunity to make a difference in someone's life.
What do you want people to know about your job?
It takes patience and a kind heart to do this position.
What keeps you going?
The fact that maybe just a smile, a hello or a kind word from me can make a difference in someone's life whether it's a resident, family member, visitor or coworker. My family keeps me going the most.
What qualities does it take to work in your position?
Professionalism, customer service, multitasking, organization and interpersonal skills.
What do you do when you're not working (hobbies, family, etc)?
I like reading books, singing, doing word-find puzzles, and spending time with my husband and family.
September 6, 2018