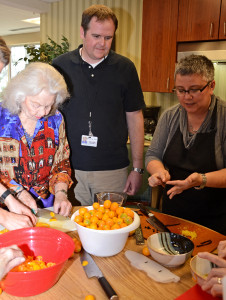 Professional Chef Tamie Cook joined patients, residents, staff and a volunteer at A.G. Rhodes of Cobb as they made marmalade during a Horticultural Therapy session.
The marmalade was made from 15 pounds of Calamondin oranges that came off the orange tree growing in the horticultural therapy greenhouse. The Horticultural Therapy session was conducted in co-treatment with Physical Therapy, Occupational Therapy and Speech Therapy, and participants accomplished important therapy goals such as reaching, standing, and using fine motor skills. Click here to see more photos.
Click here for the marmalade recipe.
About Chef Tamie Cook:
Growing up, Tamie loved to cook at the knee of her Mother, using her grandmother's collection of hand written recipe cards. However, she came to a culinary career later in life.
After working as an Occupational Therapist for almost 10 years, she had the opportunity to live in Paris for three years and discovered food and wine, the way it's meant to be enjoyed. Upon returning to the U.S., she resumed her career as a therapist all the while dreaming of the day when she could turn her new passion into a career.
Opportunity struck when a merger led to a lay off and she seized the moment to chart a new path. She enrolled at New England Culinary Institute and performed internships with Anne Quatrano at Bacchanalia in Atlanta, and with Anne Willan at LaVarenne in Joigny, France. While in France, Tamie also worked as a stagiere in a Michelin 1-Star restaurant near Auxerre. She concluded her time in France working the vendange in the village of Pommard, picking grapes and making wine the old-fashioned way.
In 2002, Tamie landed back in Atlanta where she became Alton Brown's Culinary Director. For the next 11 years she worked developing and testing recipes for "Good Eats" and myriad other projects for Alton and Be Square Productions. In 2007, along with friend and colleague Kimberly Broerman, Tamie began teaching "Mindful Eating". An 8-week course, "Mindful Eating" aims to provide conversation space, resources and community support for changing the ways we think about, acquire, prepare and eat our food. In addition, Tamie also has her own production company and produces food related videos, teaches media skills training workshops, and works as a food writer, recipe developer and researcher. Most of all, Tamie loves sharing good food and hospitality with those she loves.