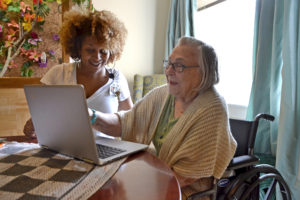 Thanks to a grant awarded by the Thanks Mom & Dad Fund, residents at A.G. Rhodes Health & Rehab nonprofit nursing home in Marietta have access to technology designed to enhance their social connections, intellectual stimulation, physical engagement, spiritual connections, emotional support and vocational interest.
The digital-technology system funded at A.G. Rhodes is called the Adaptive Computer System and it is designed by the It's Never 2 Late (iN2L) Company. iN2L integrates hardware, software, media and various components necessary to allow virtually any person with any interest in using a computer — regardless of background, physical or intellectual abilities — to do so pleasurably, engagingly and without frustration.
From using e-mail and web cams to connect with family and friends, to enjoying mind-stimulating activities, to improving hand-eye coordination as part of a rehabilitation program, patients and residents with a wide range of physical and cognitive abilities, most of whom don't use computers, can now enjoy technology using this system adapted especially for them. The system contains a content library that supports core dimensions of wellness and has more than 3,000 applications that can be used in group or individual settings.
A.G. Rhodes is one of 11 nonprofit organizations in Georgia to receive a grant from the Thanks Mom & Dad Fund, which awards funding to fill service gaps and provide aid for vulnerable older Georgians.
"The Thanks Mom & Dad Fund is pleased to make grants that address significant unmet needs and make a tremendous difference for older adults and caregivers," said Maureen Kelly, president of the fund. "We remain committed to identifying and filling service gaps across the state."
"Technology is an important tool that can enhance resident quality of life," said Angela Daugherty, Administrator of the A.G. Rhodes home in Marietta. "We are grateful for this grant which supports our efforts to deliver person-directed and innovative care to approximately 370 Cobb County seniors each year."
More about the Adaptive Computer System at A.G. Rhodes:
In group activities patients and residents can participate in Bingo, "Tell Your Story," a "Reminisce" section, music, videos, holiday content, and karaoke. In addition, the Adaptive Computer System includes cognitive brain exercises, educational and travel videos, interactive games, TV games, card and board games, word games, history and news, trivia, a bike simulator, flight simulator, Tai Chi, aerobics and therapeutic activities for Occupational Therapy, Physical Therapy and Speech Therapy.
For individuals, the design anticipates that technology may be new to some of the users. Each resident could create his or her own home page with access to a program to maintain a video health care plan and life story. The home page could display personal options: music, games, photos, videos and websites and this customization can be done by the participant, with assistance from care providers or remotely through a family portal. The program will also give elders access to favorite games and past-times, classic radio, TV shows, spiritual videos, hymns, sermons, devotionals, relaxation, therapeutic music and puzzles.
Click here to see the story that ran in the Marietta Daily Journal.