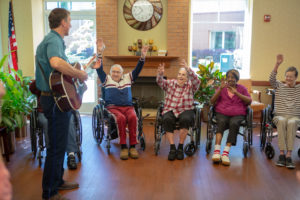 The Molly Blank Fund of The Arthur M. Blank Family Foundation awarded A.G. Rhodes Health & Rehab a three-year $50,000 grant to enhance the organization's Music Therapy program.
At A.G. Rhodes, a nonprofit organization operating three nursing homes in metro Atlanta, a Certified Music Therapist incorporates musical activities in group and individual settings to address physical, emotional, cognitive and social needs of residents. Music therapy is especially beneficial for residents living with depression, dementia, Parkinson's disease, deconditioning, or who have orthopedic challenges or strokes.
"We are so grateful to The Molly Blank Fund for this grant which will enable us to sustain and grow this wildly popular program," said Deke Cateau, Chief Executive Officer at A.G. Rhodes. "Our elders not only benefit clinically from music therapy, but the program enhances their quality of life and brings them incredible joy."
Common music therapy practices involve singing, moving to music, playing instruments or listening. These activities can:
Promote physical relaxation which helps manage stress or enhance sleep
Decrease agitation
Encourage movement
Assist with activities of daily living
Enhance interpersonal relationships
Increase verbalization
Be a healthy emotional release
In addition to the health benefits, music therapy sessions are fun, motivating and light-hearted, while encompassing the personal musical preferences of those who participate.
For more information about A.G. Rhodes' Music Therapy program, visit www.agrhodes.org/musictherapy.
About A.G. Rhodes Health & Rehab:
A.G. Rhodes Health & Rehab is a nonprofit organization providing therapy and rehabilitation services, short-term recovery and long-term care at three metro Atlanta locations in Fulton, Cobb and DeKalb counties. The mission of A.G. Rhodes is to provide expert and compassionate rehabilitation therapy and residential care to seniors in metro Atlanta. As one of Atlanta's oldest nonprofits and most trusted leaders in senior care, A.G. Rhodes has set the standard for serving an aging community since 1904. For more information, visit www.agrhodes.org.
About The Molly Blank Fund of The Arthur M. Blank Family Foundation:
The Molly Blank Fund was established after Mrs. Blank's passing in 2015 at the age of 99. The fund supports causes and organizations in which Mrs. Blank believed. For more information, visit www.blankfoundation.org.
June 27, 2018