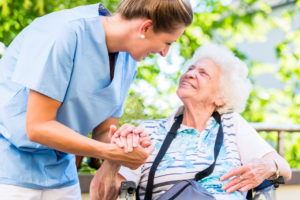 Deciding to pursue long-term care for yourself or a loved one can be difficult, especially with stigmas about what long-term care means. Many people incorrectly assume that long-term care means you must give up your personal freedoms. In reality, long-term care helps older adults live out their lives as independently as possible. Understanding what long-term care covers, who could benefit from this type of care, and how care is paid for will help you make an informed decision for yourself or your loved one.
What Is Long-Term Care?
Long-term care is not one singular service, but a comprehensive suite of services designed to provide someone with the support and assistance they may require in order to meet their personal care needs. The long-term care services provided by A.G. Rhodes caregivers are usually not medical in nature and instead involve assisting patients with activities of daily living (ADL) such as:
Bathing
Getting dressed
Using the bathroom
Eating
Transferring (to or from the bed or chair)
Caring for incontinence
Long-term care may also include assistance with everyday tasks, sometimes called instrumental activities of daily living (IADL) including:
Housework
Managing money
Taking medication
Preparing and cleaning up after meals
Shopping
Using the telephone or other communication devices
Responding to emergency alerts such as fire alarms
These care services can be provided by a friend or family member, but many facilities and home care nurses are available for long-term care purposes. The type of caregiver, costs and time associated with the level of care necessary are entirely dependent on the individual's specific needs. Most long-term care is provided within the patient's home, but there are long-term care facilities such as skilled nursing facilities—commonly referred to as nursing homes, or assisted living communities, that provide the added benefit of regular social interaction with peers.
Who Needs Long-Term Care?
Assistance with ADLs isn't just for people who have severe disabilities or debilitating illnesses. The U.S. Department of Health and Human Services predicts that 70 percent of people age 65 and older can expect to use some form of long-term care during their lives. Adults who live alone are also more likely to require some form of assistance in their old age. The needs of the individual will dictate exactly how much care is necessary, as well as the frequency of care. Some long-term care recipients just need weekly assistance with chores or errands, while others require significant assistance every day.
Covering Care Costs
For many families, the cost of long-term care is the most prohibitive factor. While some caregivers are family members, partners, friends or neighbors, this can be taxing on the caregiver and can be more difficult if the person in need of care that requires regular medical assistance or round-the-clock care.
What does Medicare cover?
If you meet certain conditions, Medicare will cover for a short-term stay and skilled nursing or rehabilitation services such as physical therapy. Medicare does not cover non-skilled assistance with activities of daily living, which make up the majority of long-term care services.
What does Medicaid cover?
Medicaid is a joint federal and state program that helps with medical costs for some people with limited income and resources. Medicaid also offers benefits not normally covered by Medicare, like long-term nursing home care and personal care services.
Medicaid covers the largest share of long-term care services, but to qualify, your income must be below a certain level and you must meet minimum state eligibility requirements. Such requirements are based on the amount of assistance you need with ADL, among other qualifications.
What does private insurance cover?
Most employer-sponsored or private health insurance, including health insurance plans, cover only the same kinds of limited services as Medicare. If they do cover long-term care, it is typically only for skilled, short-term, medically-necessary care.
What does long-term care insurance cover?
Most long-term care insurance policies sold today are comprehensive. They typically allow you to use your daily benefit in a variety of settings, including a nursing home. If you have a long-term care insurance policy, the buyer pays a pre-set premium. The policy then pays for the services you need, when you need them (up to its coverage limits). The best way to find out which insurance companies offer long-term care coverage is to contact your state's Department of Insurance.
What other options or private pay resources are available?
If you have enough income and savings, you will likely pay for long-term care services on your own, from your incomes, savings and possibly the equity in your home. A few of the growing number of ways you can pay for your long-term care privately include reverse mortgages, annuities and trusts.
Federal programs such as the Older Americans Act and the Department of Veterans Affairs pay for long-term care services, but only for specific populations in certain circumstances.
Health and Care Services in Georgia
A.G. Rhodes Health & Rehab is one of Atlanta's oldest nonprofits and most trusted leaders in long-term senior care. Our dedicated staff provides therapy, rehabilitation services, short-term recovery and long-term care at three metro Atlanta locations. Contact us today for more information.