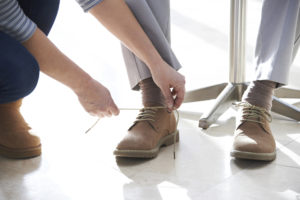 As we age, we may need more help carrying out basic everyday tasks. Though it may begin with something small, such as being unable to carry the vacuum up and down stairs, our loved ones' trouble with daily activities could progress into needing assistance grocery shopping, getting dressed or even eating.
We all want to be as independent as possible for as long as possible, but understanding ADLs and IADLs are important for determining if your friend or family member may need more help than an untrained caregiver can provide.
What are ADLs?
Consider all the actions you take every day just to function normally. What do you do to get ready for the day? Chances are you don't realize how much movement and cognitive awareness you may take for granted until it becomes difficult to accomplish or remember to perform simple tasks. These basic tasks are your Activities of Daily Living (ADLs) and they measure how well an individual can care for themselves. These simple self-care tasks may include:
Walking
Eating
Using the restroom
Dressing
Grooming
Bathing
Moving from a sitting to standing position, and vice versa
And more
When an adult struggles to complete these ADLs, their independence and function could be at significant risk without the assistance of a trained caregiving professional.
What are IADLs?
An aging loved one may demonstrate their need for assistance even if they can successfully perform self-care activities such as the ADLs. Some of the more complex activities required to maintain an independent lifestyle safely are known as Instrumental Activities of Daily Living (IADLs). An aging adult's inability to complete IADLs may slip past their friends and family unnoticed, so it's important for loved ones to keep an eye out for signs of IADLs being forgotten or neglected. Common IADLs to pay attention to include:
Paying bills and managing finances
Taking and refilling medications
Cleaning the house and performing home maintenance
Shopping for necessities and groceries
Using the computer and telephone
Cooking
Driving
If you notice your elderly loved one is struggling to safely or responsibly perform these activities, it may be time to enlist the help of a trained professional caregiver.
How Do These Concepts Contribute to an Accurate Assessment of Someone's Ability to Live Independently?
There are many reasons a senior may struggle to accomplish basic ADLs or IADLs. If a person is living with arthritis or dementia, their mental and physical health could be the culprit behind neglected daily tasks. Having a professional assess your loved one's capabilities at home could serve to identify unnoticed effects of health conditions and help determine if they are able to live alone without a caregiver. If ADLs and IADLs are not being accomplished to a certain standard, the assessor may recommend a caregiver, or a transition into an assisted living or other long-term care settings.
Rediscover Independence and Comfort at A. G. Rhodes Health & Rehab
We understand that you may need help in caring for your aging loved one. At A.G. Rhodes we want seniors to live as independently as possible, while still receiving the help and care they need to be comfortable and safe. At A.G. Rhodes Health & Rehab, our Atlanta-based team of compassionate and dedicated caregivers are ready to assist your loved one with daily activities ranging from bathing to shopping. If your aging loved one is struggling to accomplish everyday tasks, it may be time to consider long-term nursing care. Contact us online or call 877-918-6413 to learn more about our admissions process.