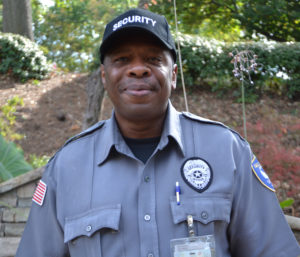 Nearly 20 years ago, Bobby Reynolds had a vision when he purchased his home in Jonesboro, Georgia. Although he didn't have any real expertise in landscaping or gardening, Reynolds knew great things were in store for his backyard.
"It was in rough shape, but when I cleaned out the yard, I saw the potential," says Reynolds, who's been the Security Officer at A.G. Rhodes of Atlanta for eight and a half years.
Reynolds would spend the next 18 years teaching himself how to landscape, garden and install water features, and he transformed his yard into a main neighborhood attraction. A big part of his vision was that it would be wheelchair accessible. He didn't know at the time that he'd eventually be working with seniors who would reap the benefits of his vision.
"I started on this way before I came to A.G. Rhodes, but when I started, God told me to build it for wheelchairs and I didn't know why," says Reynolds. "I had no idea I'd be working for a nursing home."
In September, Reynolds worked with the Activities Director at A.G. Rhodes of Atlanta, Vanissa Johnson, to arrange trips for residents to have lunch and relax in Reynolds' garden.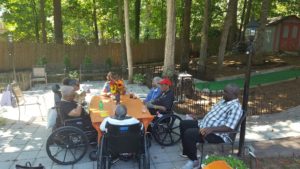 "The residents loved it," says Johnson. "Bobby and his wife had a cookout for us and the place was just beautiful."
Another group of residents went back the next month, and Johnson and Reynolds plan to make it a regular activity.
Reynolds gets a lot of visitors from his neighborhood and surrounding areas, and several family members of A.G. Rhodes residents have also stopped by. He says people are always surprised about the story behind the backyard's transformation.
"I had no idea what I was doing," says Reynolds. "When people see it, I want them to know that if you want to do something, you can do it if you believe you can."
Reynolds says that the residents at A.G. Rhodes frequently tell him how much they enjoyed their visit and how grateful they were, but he says he's the one who's blessed.
"I know they got a lot out of it, but I think I got more out of it than they did," says Reynolds. "I saw my dream come to fruition."