Employee spotlights feature exceptional A.G. Rhodes staff members who are doing great work throughout the organization. May's spotlight features Sarah Jordan, who has worked at A.G. Rhodes for 20 years in various positions, and she is currently a Unit Clerk at our Wesley Woods home.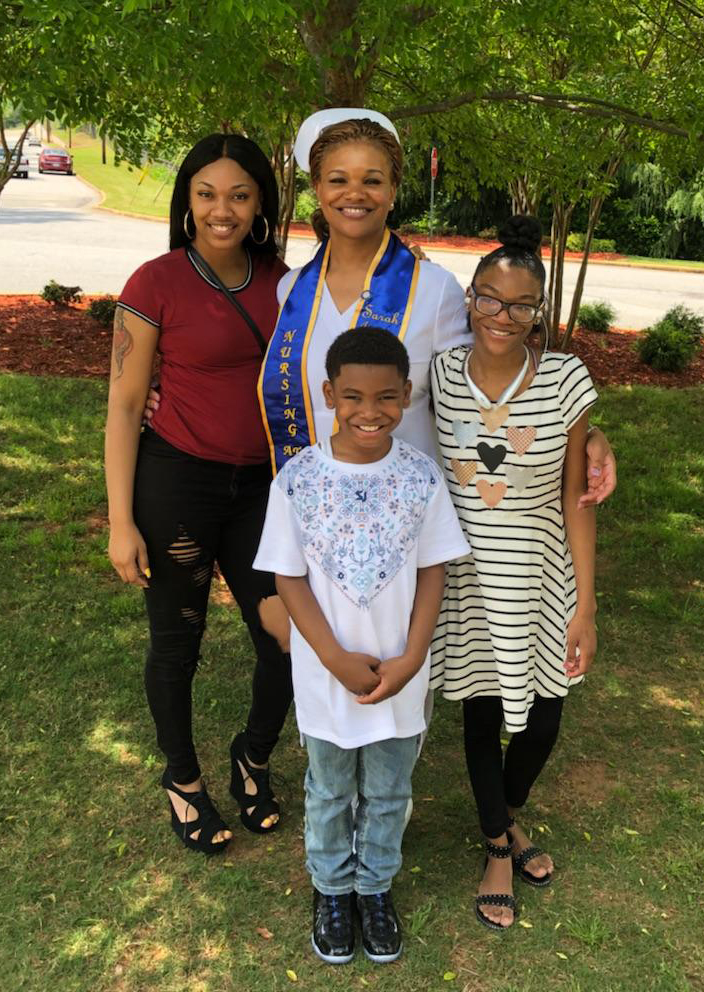 On May 7, Sarah graduated from the Atlanta Technical College with an Associate of Science in Nursing Degree. Now that she has completed her registered nursing educational requirements, Sarah will soon take the state board exam to become a licensed registered nurse.
"Sarah is an inspiring member of our team," said Greg Heath, Administrator of A.G. Rhodes at Wesley Woods. "Not only is she incredibly dedicated to her job and the well-being of our elders, but she sets a wonderful example for other employees through her success in achieving her professional and personal goals. Sarah's determination is contagious!"
Where are you from?
I'm from Bogalusa, Lousiana. I came to Georgia in 1998 and started working at A.G. Rhodes' Cobb location. I was only 19 years old! In 2002, I transferred to the Wesley Woods home and have been here ever since. I've grown up at A.G. Rhodes.
What is your job title, and what does it entail?
My current title is Unit Clerk. This position entails direct interaction with the physician, Nurse Practitioner (NP), charge nurse and floor nurses. I am responsible for pulling off lab orders written by the physician or the NP. I also ensure that the lab work is done, and that the results are reviewed and signed by the physician or the NP and filed in the residents' charts. I communicate directly with the residents and families to schedule follow-up appointments and transportation.
When I first started at A.G. Rhodes, I was a CNA. I also worked in housekeeping for a while, and then I was a receptionist here for 10 years before I become a Unit Clerk.
What's the best part about your experience working in various positions at A.G. Rhodes?
Each position has been a learning experience, and I think of them as advancement opportunities. In each position I learned something new—a new trade, a new skill.
There is plenty of opportunity for growth at A.G. Rhodes. This company seeks for advancement within the company—they look for current qualified employees before looking to the outside.
What made you get into this field?
I have always loved taking care of people. I believe that with this profession, I can make a difference and make people feel that someone does care. I love interacting with elders and families, especially in relation to teaching and helping them help themselves.
When I was about 11 years old I used to help take care of my grandmother. I would watch what the home health nurse was doing when she came over and I thought, "That's what I want to do when I grow up."
What's the best part about your job?
The best part about my job is working with elders and their families, and making sure their needs are met. I get to do quality work for a company—and with coworkers—who put elders first.
What do you want people to know about working with elders?
Working with elders is a privilege that should not be taken for granted. They deserve to be treated with respect and valued for what they have contributed to society.
Several years ago, I was going through something in my personal life and an elder gave me some great—yet simple—words of advice. They can offer you simple words of encouragement, and in turn, you can offer them simple things such as sitting with them and listening to them. These relationships and bonds make a big impact on not just the elders, but on the employees, too.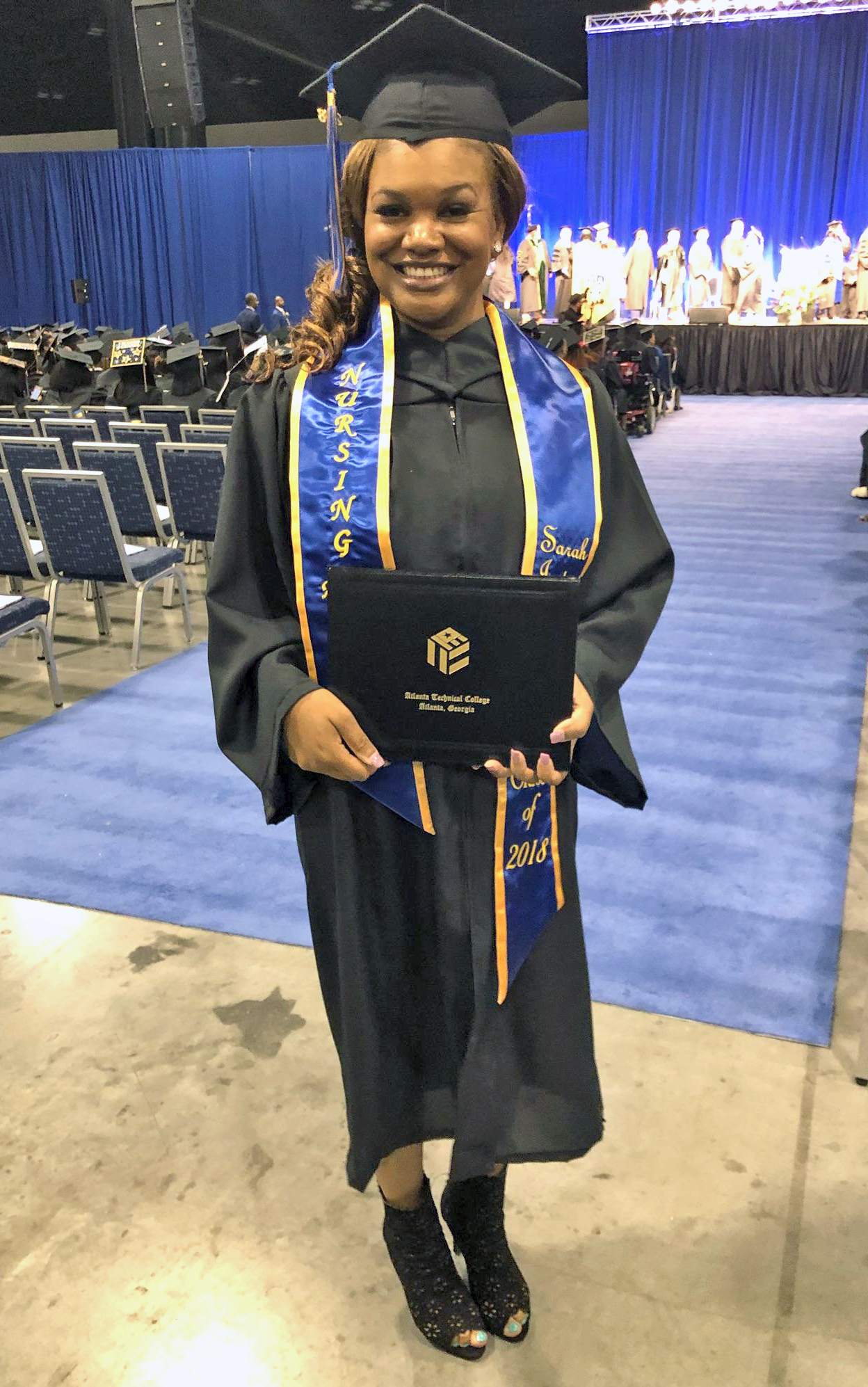 You've juggled a lot over the last couple of years with your job, family and going to school. What keeps you going?
What keeps me going is that I put God first, my kids second and knowing that failure is not an option.
A friend of mine once said something that has stuck with me, "Anything worth having is worth fighting for". I had a lot of determination, and I kept pursuing my dream.
My kids have been a big source of motivation throughout my journey. I want to be the image and role model that they look up to up, and I want them to say, "That's how I want to be when I grow up". As I try to inspire them, they actually inspire me. Both of my girls have told me that they want to be nurses.
What does it take to work in this field?
The Six C's: Compassion, Caring, Competence, Communication, Commitment and Courage.
Do you have any advice for someone interested in getting into the long-term care industry?
The long-term care industry is a great place to learn, grow and build relationships. It's a selfless industry where you will not only gain solid skills but also a sense of purpose.
I would recommend to anyone interested in getting into this field to talk with someone who currently works in long-term care. When working with elders, you have to be patient and willing to slow things down. You may even need to repeat yourself several times. These are important qualities when working in this field and you need to make sure your expectations are realistic.
What do you do when you are not working or in school?
For the last couple of years my focus has been church, my kids and school. I'm looking forward to finding out what I will enjoy now that school is over. I love to read and go to the movies.
What's next for you?
My first priority is to get through state boards so that I can get licensed as an RN. Beyond that, I'd like to eventually go back to school and earn my Bachelor of Science in nursing (BSN).
Do you have anything to add?
I want to encourage everyone to pursue your dreams and not give up. It doesn't matter where or when you start or how long it takes, it only matters that you finish. A dream is more than a vision, a dream can be held, felt, touched and reached if you are willing to strive for it!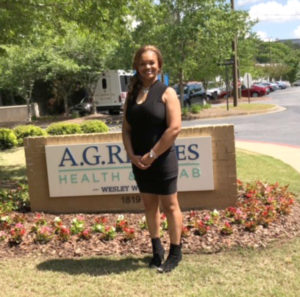 If you have an employee you'd like to nominate for the employee spotlight feature, please let your HR representative know.
May 9, 2018