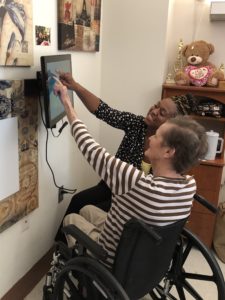 Several rooms at A.G. Rhodes of Cobb have been equipped with the SimpleC Companion™ technology, an intuitive touch-screen application that promotes memory, engagement and better communication for elders.
This technology is designed to support elders at all levels of cognitive abilities and is especially beneficial for those living with dementia. Elders can use the device independently, or with a care partner or family member.
Some capabilities include:
At the heart of the Companion is its care goal method, which establishes a care routine for each user and identifies specific care and behavioral needs to address throughout the day. Combined with a personal life story, the technology uses the power of proven therapy methodologies to produce a dynamic and engaging system for maintaining a healthy lifestyle and working towards specific outcomes.
The technology delivers scheduling reminders for activities, mealtimes as well as behavioral interventions for addressing under stimulation, sundowning or agitation – all without the use of medications.
The technology integrates personally meaningful visual cues such as family photographs, meaningful audio such as preferred pieces of music and personalized messages recorded by family members or a favorite care partner. The familiar and personal media stimulates positive memories, and comforts and engages users.
"As we strive to provide more person-directed care, we must rely on innovative approaches and technology," said Angela Daugherty, Administrator of A.G. Rhodes' Cobb home. "This device is just one more tool that will help us tailor our care delivery to meet individual needs of our elders, specifically those living with dementia."
This technology is made possible by Civil Money Penalty (CMP) funds. CMP is a federal national grant to support and further expand the National Partnership to Improve Dementia Care in Nursing Homes, an initiative of The Centers for Medicare & Medicaid Services (CMS).
May 7, 2018