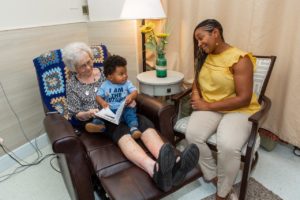 A lot of creativity, coordination and energy goes into planning the activities offered at A.G. Rhodes, and this month's employee spotlight features someone who does the job exceptionally well: Sonya Williams, Recreation Therapist and Activities Director at A.G. Rhodes of Cobb.
In her role, Sonya plans activities, events and outings that accommodate the interests of the elders at A.G. Rhodes. She also manages volunteers and uses their desire to give back to organize meaningful opportunities that engage both volunteers and elders.
Sonya has a passion for people—particularly older adults—and the satisfaction she gets from making elders happy motivates her each day.
"I love building relationships with them, finding out what they like, and making those things happen," she said. "I get a lot of gratitude when I know that they're happy. When they tell me a job well done, I take that to heart because that's what I'm here for."
Sonya, a Portsmouth, Virginia native, earned a bachelor's degree in Therapeutic Recreation with a focus in Geriatrics at Old Dominium University in 2000, but she knew she'd end up working around elders well before attending college. As a young child, Sonya happily accompanied her grandmother—a nurse who worked with older adults—to work. Sonya would make the rounds with her grandmother as she visited nursing homes, and she experienced at a young age the value of connecting with elders. Her grandmother's passion became hers, and now Sonya is setting the example for her own kids. Sonya frequently brings her four children to A.G. Rhodes where they experience the same joy that she did as she was growing up.
"They [my children] have about a hundred grandmas," Sonya said. "They really love them and they talk about them all the time."
Sonya is an advocate for educating people about nursing homes and addressing negative stereotypes that some people have about living there.
"There's a lot of living going on and wisdom to be shared in nursing homes, and I wish people would look at that aspect," she said. "I consider it an honor to work here."
Sonya says you have to have the heart for this line of work, and patience, compassion and an adventurous spirit are important qualities to possess.
"You have to be willing to try new things and not really stay in the box," she said. "You have to be a good listener and find out what they [the elders] want to do and be creative enough to make it happen."
In addition to her role as the Activities Director at Cobb, Sonya is also a Certified Eden Educator and helps educate employee care partners across the organization in person-directed care. She acknowledges that this line of work can be demanding and challenging, but that continuously learning and furthering your education will help prevent burnout and stay focused on what's important.
"You want to make sure you're learning so you have the best information to do the best for the people that you serve," she said. "And have fun. It's always nice when you can have fun."
Sonya has been at A.G. Rhodes since 2015.
August 2019