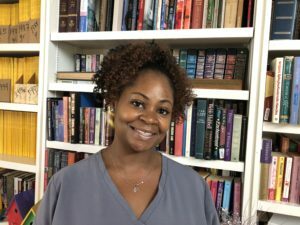 When you walk into one of our A.G. Rhodes homes, you may not always think about the employees who work to ensure it's a clean, safe and welcoming environment. For Velencia Walton, a Housekeeper at our Wesley Woods community, she takes great pride in making sure that you have a positive experience.
"First-time impressions are everything," Velencia said. "So, when we have visitors, family members or whoever come and visit, the feel and the cleanliness of the community makes an impression and impact."
Velencia, an Atlanta native, has been working at A.G. Rhodes for two and a half years.
"When I came to A.G. Rhodes, it gave me the opportunity to utilize what I've always had a passion for, which is helping people," she said.
Prior to A.G. Rhodes, Velencia worked in the commercial cleaning business. She describes her line of work as customer service because she is delivering an important service in maintaining a comfortable environment for others. In addition to helping to keep A.G. Rhodes clean and maintained, Velencia assists elders and interacts with them on a daily basis, which she says is the best part of her job.
"I don't know how it makes them feel, but to be able to sit and listen to them, it makes my day."
Velencia says she enjoys spending time with older adults thanks in part to the appreciation she has for her grandparents.
"My admiration and the respect that I have for my grandparents, it makes it easy for me to come in here every day," she said.
It's not surprising that Velencia's job requires a lot of hard work, and when asked what keeps her going, Velencia credits her faith and family.
"I thank God and my family, that's what keeps me going," she said. Valencia added, "Trying to stay positive and treat people the way I want to be treated. That's what keeps me motivated throughout the day."
When asked what qualities it takes to work in long-term care, Velencia said, "I would say compassion, understanding and respect."
Velencia adds that someone interested in working in long-term care should see it as a service.
"You have to want to be of service to someone else other than yourself," she said. "You have to really have a passion for the elders and want to be there for them."
In Velencia's spare time, she enjoys spending time with her husband and two daughters, traveling, and doing hair.
September 2019