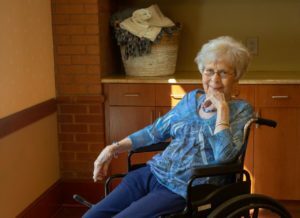 Merle Houston was born and raised in Clayton, Alabama, which is a small town in Southeast Alabama. Ms. Houston is passionate about learning and education, and she attended Troy State where she majored in Education and specialized in English. After earning her degree, Ms. Houston taught high school for a few years.
"I loved teaching because I loved being with students," she said.
While still working, Ms. Houston was eager to advance her education and she spent her summers and spare time attending Auburn University where she earned a Master's in Education, and then she went to Florida State University where she earned a degree in Library Science.
Ms. Houston spent the majority of her career working as the Librarian at Chipola Community College in Marianna, Florida. While Ms. Houston wasn't in the classroom, she was still constantly teaching and interacting with students.
"Once in the library, I was able to teach as much as much as I wanted to. They (the students) came to me with questions and I loved reference (helping students to find reference materials), and that's what I was good at, and that's what they needed."
Ms. Houston retired from Chipola Community College after 32 years, but even after she retired, the school called her a couple of times to come back and help out.
"I loved it," said Ms. Houston.
After she finally retired, Ms. Houston traveled around the world to places like London, Italy and Paris. She eventually moved to be closer to her son who lives in Marietta, and she's been at A.G. Rhodes of Cobb for two and a half years. In addition to her son, Ms. Houston has a daughter and two grandchildren.
Ms. Houston is a very social and active member of the A.G. Rhodes Cobb community. She participates in many of the activities, and she encourages others to get involved, too.
"I've always been active," she said. "When I was teaching, they (the school) had me sponsoring everything under the world."
Ms. Houston is an incredibly positive person, and she approaches each day with a great attitude. She also looks for the positive in people, and advises others to do the same.
"Try to have a pleasant attitude. Don't look for the bad in somebody. Look for the good. You can love life or you can hate it, but it's mostly (up to) you," she said.
Ms. Houston added: "You can find something bad about anybody easily. I could make a list, but why would I do that when I can make a good list that would be more pleasant?"
Not only is Ms. Houston a friend to other residents, but she is also a friend and role model to staff, and you can find her frequently talking to employees and giving them advice. She also hand-writes greeting cards and delivers them to each employee on their birthdays and for other occasions.
"Ms. Houston exemplifies positive aging in every way," said Sonya Williams, the Recreation Therapist and Activities Director at A.G. Rhodes of Cobb. "She is engaged and active, she leads by example, and she is a true friend to everyone. We are so grateful that that she's part of our community."
Our "Getting to Know" series introduces you to the people who stay at A.G. Rhodes.
August 30 2019