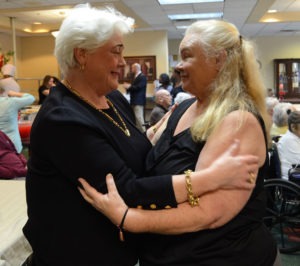 A retirement party was held today for LaShaw Paine, Life Enrichment Coordinator at A.G. Rhodes at Wesley Woods. Paine began working at A.G. Rhodes when it opened its Wesley Woods location in 1997. Prior to that, she worked as the Activity Director at the Wesley Woods Health Center.
"LaShaw has dedicated her career to enriching the lives of seniors, and her commitment was an asset to the entire organization," said Greg Heath, Administrator of A.G. Rhodes at Wesley Woods.
Paine is planning to be a familiar face at A.G. Rhodes by returning as a volunteer.
Pictured is LaShaw Paine (right) being congratulated at her retirement party by Maureen Foley (left), member of A.G. Rhodes's Board of Managers.