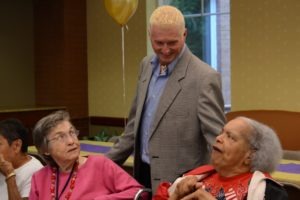 Paul Jerkins recently retired from A.G. Rhodes of Cobb after serving more than 15 years as the Activities Director there.
"Paul worked tirelessly to plan wonderful events and activities for our residents." said Angela Daugherty, Administrator of A.G. Rhodes of Cobb. "He has contributed so much to A.G. Rhodes and the residents we serve, and it's been an honor working with him."
Paul is well-known among his peers throughout the state and in 2010, he won the Georgia Healthcare Association's Activities Director of the Year award. He plans on being a familiar face at A.G. Rhodes, but now as a visitor and volunteer.