Employee Spotlight: Afia Siriboe, RN
MDS Director, A.G. Rhodes Cobb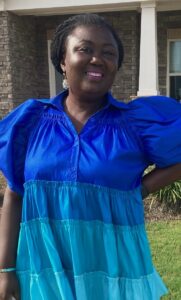 Afia Siriboe has been a nurse for more than 25 years, with nearly 20 of them spent working at A.G. Rhodes Cobb. But when she first started school years ago, she initially pursued a different career path.
"I originally started school to become an accountant."
Then, Afia met a friend who was in school for nursing, and he encouraged her to consider the nursing profession. Afia was interested but said it was important to her to first become a CNA to see if nursing really was the right career fit. Once she started, she didn't look back.
"I decided that if I was going to do this, I wanted to start from the beginning. I went to CNA school, then I went to LPN school. I graduated and three years later I went to RN school."
Afia says she was immediately drawn to the profession; she saw it as an opportunity to serve others in a meaningful way.
"I knew my role would be fulfilling. I could help somebody in need."
Afia gravitated toward working in long-term care because of her upbringing. Born and raised in Ghana until she moved to the United States at age 12, Afia—who is the oldest of five siblings—grew up living next to her grandparents and other older adults that she also lovingly referred to as grandparents.
"I had six grandmothers who lived next to each other. That was six grandmas for me."
Afia felt at home when she started working in long-term care.
"It was personal; I could talk to them," she said.
Afia says she loves being around the residents, hearing their stories and learning about their experiences.
"They become family for me, and I learn something from them too."
In her role as MDS Director, Afia assesses the residents' health and coordinates care plans to ensure they are receiving the right care and medications. She says she gets to know each resident while also working closely with other care partners.
"I need to know what's going on with each and every resident. The staff also keep me updated and sometimes they tell me something that may be a key piece of information I need to know about the resident."
A.G. Rhodes Cobb Administrator Loretta Barnes says Afia is an invaluable member of the A.G. Rhodes family.
"Afia is a great team player and a true standout at Cobb."
Afia credits strong teamwork as a key to success in this field.
"It takes being selfless. You can't go to work thinking, 'This is not my job.' At the end of the day, giving a helping hand is something we're all going to benefit from."
August 2023