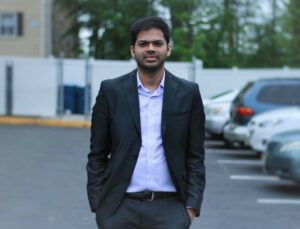 Many people who choose to work in the health care field experience a calling to serve early in their lives. That was the case with Abhinay Sunkara, a Registered Nurse at A.G. Rhodes Cobb.
"My mom was my inspiration to become a nurse," Sunkara said. "She was sick as a kid and was given a medication that she was allergic to. She became very ill. Her story inspired me, and I knew I had to bring a difference to people's lives."
Though Abhinay has been an RN for 10 years, he's a relatively new member of the A.G. Rhodes team. In the few short months that he has worked here, he has already left a memorable impression.
"Abhinay has done a fabulous job jumping right in. He hits the ground running every time he comes to work and he is always willing to provide an extra pair of hands where needed," said Melanie Haders, Administrator at A.G. Rhodes Cobb. "Especially in a time of crisis, I appreciate dedicated care partners like him."
Abhinay says he is enjoying his time at A.G. Rhodes so far, and that he especially values the culture of the organization and the teamwork of his colleagues.
"There isn't one moment that the staff here don't pull together," he said. "Everyone is willing to step into different roles and provide all hands-on deck when needed."
Teamwork has been especially critical during the pandemic when everyone has faced challenges and demands like never before. Abhinay says that one way we can all come together to ease the burden of COVID-19 is by taking important measures to protect ourselves and each other, which includes vaccination.
"Close family members of mine have tested positive for COVID-19, and we don't fully know what difficulties it will cause in the long term. I am vaccinated and wish more people would get vaccinated," Abhinay said.
Even during these challenging times, Abhinay focuses on the positive moments. What he treasures most, he says, is the time he shares with elders.
"It's a breath of fresh air to make a difference in an elder's day," Abhinay said. "Something as simple as making sure they're able to talk to their loved ones can have a lasting impression, especially because of the isolation they've experienced due to COVID-19."
More about Abhinay:
Abhinay was born and raised in Southern India and moved to the U.S. in August 2014 to pursue a Master's Degree in Health Care Administration. Before COVID-19, he enjoyed visiting family back home and he looks forward to the day he can visit them again. In his free time, Abhinay likes to hike, play outdoor games, and hopes to one day travel to Europe. He was also featured on our Facebook page as part of Asian American & Pacific Islander Heritage Month here.
September 2021