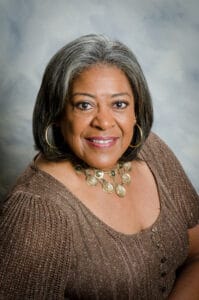 An important component of life in a nursing home is volunteer support that helps keep elders connected and engaged with the community. COVID-19 has forced long-term care communities like the A.G. Rhodes homes to restrict volunteers from physically visiting, but that hasn't stopped volunteers from coming up with safe and creative ways to support our elders.
One A.G. Rhodes volunteer and member of the Board of Trustees, Jocelyn Dorsey, brings her talents from a remarkable 45-year journalism career to host Current Events, a popular program that fosters discussion among A.G. Rhodes residents about local, national and global issues. Elders from all three A.G. Rhodes locations join together via Zoom each month, building camaraderie and discussing what's going on in the world.
Cynthia Fleetwood, a resident at A.G. Rhodes Wesley Woods, says that Current Events has been an important outlet during challenging times, and it allows her to talk about a variety of topics while meeting new and diverse people.
"My world is getting smaller, and it can be scary," she said. "I am still curious about the world and like the conversations as much as the current events being discussed. It helps me take my mind off of other things."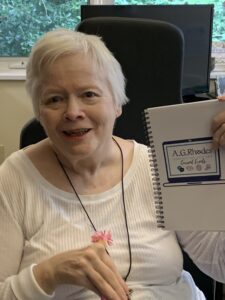 Current Events originated at A.G. Rhodes Atlanta several years ago, and it was co-hosted in person by Jocelyn and another prominent journalist and member of the A.G. Rhodes Board of Advisors, Alexis Scott. The program was adapted once COVID-19 hit and residents from all three A.G. Rhodes locations can now participate since it's held virtually. Residents join from tablets or phones, or around a large monitor in small group settings within the nursing home.
"I appreciate the technology that allows me to participate," Ms. Fleetwood said.
In some sessions, Jocelyn opens by giving a presentation about a noteworthy topic, followed by discussion and questions. In other sessions, she'll lead a more open-ended discussion and let residents share some of their own thoughts and experiences.
"Everyone is so engaged and wants to be informed about what's going on," Jocelyn said. "The sessions spark some great conversation and I think I'm benefiting from the discussions just as much — if not more — than they are."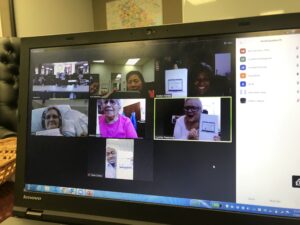 Vanissa Johnson, the Activities Director at A.G. Rhodes Atlanta, says the residents especially enjoy participating in Current Events with someone they remember seeing on television.
"The elders love the direct access they get to Jocelyn during these sessions as well as how down-to-earth and open she is about her life and career," Vanissa said. "Many of them watched her on WSB-TV for years. They still read the newspaper and watch the news, and they appreciate being able to gather safely for a program like this where they can share their thoughts about what's going on in the world."
September 2021