When you meet Alexis Oliver, a Licensed Practical Nurse (LPN) at A.G. Rhodes Atlanta, you're automatically greeted with a big smile.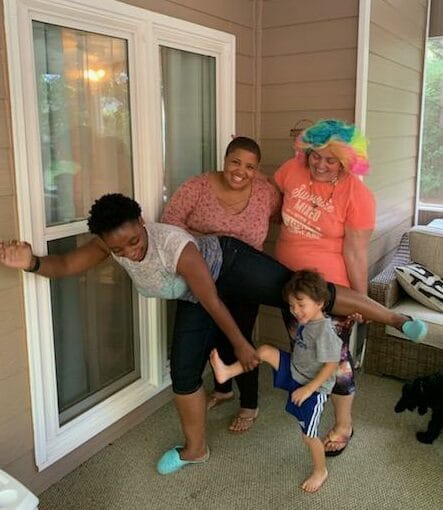 "She exudes positivity and confidence, and she has not wavered from that despite challenges presented by COVID-19" said Kristie Davis, Administrator at A.G. Rhodes Atlanta.
Alexis, an Atlanta native, entered the long-term care field as a Certified Nursing Assistant (CNA) more than a decade ago and has been at A.G. Rhodes about a year, but her history of care and compassion goes back much further.
"I remember helping to take care of my grandmother," Alexis said. "It didn't feel like a job, it was out of love. Now, it's like I have a bunch of grandmothers."
Alexis' love for her career and the people she serves is clear.
"The population that we serve—like anyone else—deserves to be confident that they will be well cared for," she said. "I relish in the fact that I can help provide that security."
Alexis focuses care on the individual, not the illness.
"They are not their diagnosis," she said. "They are people and you can't lose sight of that."
Working in long-term care has its challenges, particularly in recent weeks, but Alexis leans strongly on her faith, and takes comfort in knowing that she is well-trained and skilled in her role as a nurse and essential employee. She has some poignant advice for her fellow care partners:
"You've got this," she said. "You've been in this field; you know your expertise. You will find strength in knowing that you are able to fight this. It's something we do have some control over."
Alexis also wants to reassure family members that—especially during these difficult days when they haven't been able to physically visit their loved ones at A.G. Rhodes—she and her teammates continue to deliver compassionate care and companionship.
"We are their family. We love them," she said. "We're going through the highs and lows with them. It's a struggle for everyone, but I feel a connection through this crisis. It's bringing us together; it's making us one."
When she's not working at A.G. Rhodes, Alexis loves to spend time with her family. Her hobbies include learning to play the piano and planning social events.
June 2020