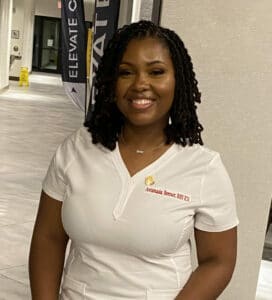 Nursing isn't an easy profession—especially over the last year and a half— but it's an incredibly rewarding one. That's the sentiment expressed by Antanasia Bonner-Franklin, a Registered Nurse at A.G. Rhodes Wesley Woods.
"When I have a full-blown busy, stressful day, my reward is that I feel good about what I've done," Antanasia said. "At the end of the day, everything we do is for the patients and residents."
Antanasia joined A.G. Rhodes as a Licensed Practical Nurse in 2017 and recently became an RN. She says she started working in long-term care because she loves helping elders, and she knows how important it is for families to feel at ease knowing their loved ones are in good hands.
"I want to be that nurse that families can trust and who helps them feel comfortable."
Antanasia says she enjoys talking to the elders and learning about their life experiences. She also appreciates when they give her advice.
"I love to connect with them," she said. "They teach me so much."
Though the last year and a half has been difficult, Antanasia remains committed to making A.G. Rhodes as homelike and comfortable as possible for the elders in her care. She's done so fearlessly and selflessly.
"I try to be strong for them and help them get through it. That's my biggest focus."
Antanasia acknowledges that teamwork is critical in her job, especially in dealing with the stress and challenges from the pandemic.
"I love my coworkers. We all look out for each other. I just love that. It makes the job easier when you have people you can depend on."
Administrator, Greg Health, says Antanasia's compassion and commitment are clear.
"Antanasia has distinguished herself as a true leader at A.G. Rhodes," he said. "She's an incredible asset to our team and to the elders she serves."
Antanasia has some advice for others interested in pursuing a career in nursing. She says to embrace it as a rewarding opportunity and don't be intimidated by the challenges.
"We all start somewhere, and as time goes on, the experience will come," she said. "Try to be confident, courageous, and know that you have nurses around you who will help you when you feel lost."
When asked what traits are required to be a nurse, Antanasia was quick to respond, "You have to have the heart for it. And you have to be patient, confident, and empathetic."
More about Antanasia:
In her free time, Antanasia enjoys going to Piedmont Park with her dog, shopping, and hanging out with friends. She is also pursuing long-time personal and professional goals including becoming a critical care nurse to gain experience in other areas of nursing, and as a travel nurse to explore other parts of the country.
October 2021