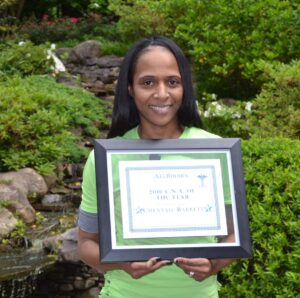 Chentail Barrett has always had the heart to serve. She's been working as CNA in long-term care for about 30 years, the last 13 of which have been at A.G. Rhodes Cobb. She says her calling is to help others, and she loves the hands-on experience she gets as a CNA.
"I love to take care of people. I love to make them look good, and I love being there for them. It's very fulfilling for me."
Born and raised in Chicago, Chentail says was inspired to enter the field after helping to take care of her grandmother. Later in life she and her two sisters—who are also in this line of work—helped to take care of their parents.
Chentail says she feels like she has extended family with the elders at A.G. Rhodes.
"They're definitely in my heart; each and every one of them. We're like family, and when they can put their trust in me, I feel so good."
The challenges posed by COVID-19 seem to have strengthened Chentail's love for her job and for the elders.
"My goal is to make sure they feel safe. Even though it was scary, I knew they needed me. It was important to be there in their time of need."
Chentail says she looks forward to seeing the elders every day, and she reassures them that they can depend on her.
"The best part of my job is when an elder asks, 'Am I going to see you tomorrow?' Just to know that they like me, that they know that I am doing a good job and that they want me around. I love to be there for them. I give it my 100%."
More about Chentail:
When she's not working, Chentail enjoys spending time with her husband. They have two children and three grandchildren, with one more grandchild the way.
September 2022