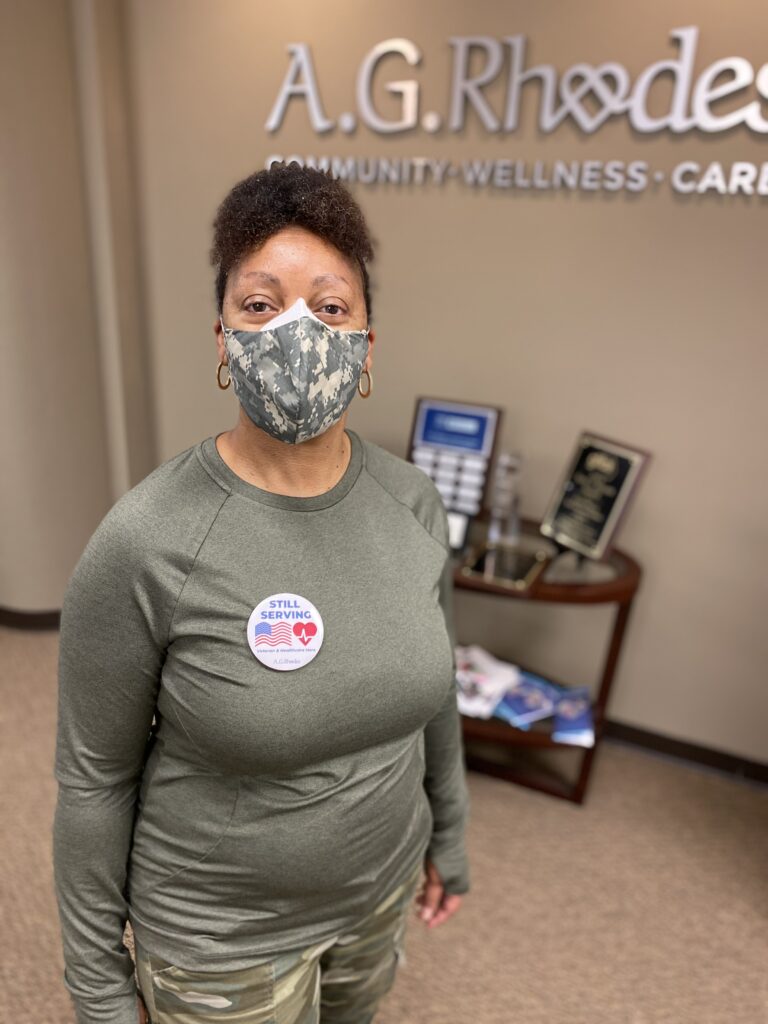 It's been more than two decades since Fontella Favors served in the United States Army, but she has continued to embody the Army's core values—particularly selfless service—during her 20+ year career as a nurse at A.G. Rhodes.
Fontella grew up in a military family. She followed in the footsteps of her father who served in World War II, and her three older brothers who were also in the service.
"My parents were very structured," said Fontella. "The Army was a continuation of structure, building character, persevering for life, determination, and those are some of the reasons I really enjoyed my time in the military."
Fontella's time stationed in a support unit at Fort Riley, Kansas was also a steppingstone to a career path she long dreamed of.
"I've known since tenth grade that I was supposed to be a nurse," said Fontella. "I saw the military as an avenue to help me get there."
After she completed her commitment with the Army, Fontella moved to Georgia to pursue her goal. She attended Atlanta Area Tech and became a Licensed Practical Nurse (LPN). She did her clinical rotation at Grady Hospital where she said she gained invaluable experience that only reinforced her desire to serve in a profession that allows her to help people.
Her interest in working with elders was influenced by her own experiences with her grandparents and since she started working at A.G. Rhodes in 1999, Fontella has worked in several roles including charge nurse, supervisor, and now she serves in another supervisory role as a wound care nurse. As a supervisor and leader, Fontella says how important it is to do the work that you ask others to do.
"You can't just leave your staff member or CNA to fight the battle alone. When you show them support, they are so encouraged," she said.
This especially rings true in recent months and Fontella applies lessons learned from her time in the military to face the challenges of COVID-19.
"During the challenging times, the military taught me that you have to persevere. Even when times are tough, you cannot stop," Fontella said.
Fontella also encourages her fellow care partners to stay strong and fearless amid the pandemic.
"People need us. This is not your time to be fearful," she said "Focus on the positives. Focus on what you can do to make somebody else's day and life better."
Fontella says that despite the challenges of the profession, a commitment to serving others is incredibly rewarding.
"The fact that you've done something to help someone else is just amazing. That's something you can take pride in," she said. "What we do for others, we will always get that in return. Even if I can't see it now, my return will come in one way or another."
More about Fontella:
Fontella is a native of Appomattox, Virginia. When she's not working at A.G. Rhodes Cobb, she enjoys spending time with her family, including with her husband and two daughters who are 17 and 20. She also enjoys talking on the phone with other family members, and pursing health and fitness goals.
November 2020