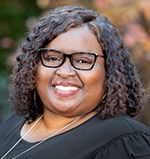 For nearly 19 years, Natashia Kearney has worked at A.G. Rhodes Atlanta. As the Social Services Director, she is involved in the well-being of residents and you will find Natashia frequently walking around the home checking in with residents, their families and our staff.
Natashia prioritizes quality care, but equally important to her is the quality of life for the residents at A.G. Rhodes. She ensures that residents and their families know about the ample opportunities available for residents to engage in meaningful activities, and resident and family input is incredibly important to her. Through the strong relationships she forms with residents and their families, Natashia assures them that A.G. Rhodes is not only an environment where residents can feel comfortable and safe, but where they feel engaged and purposeful. The ways she interacts and communicates with them sets an outstanding example for her fellow care partners. She also encourages residents to attend the various activities offered, and she will oftentimes accompany them to activities so that they will engage with others instead of remaining in their rooms.
"In my years of experience in Administration, Natashia's knowledge professionalism and experience are unparalleled," said Machele Pace, Administrator of A.G. Rhodes Atlanta. "She takes time with all of our families and residents in true care partnerships and focuses on building good relationships so that our families are more than comfortable with the care that we provide."
Natashia is a great team player. She has a wonderful attitude, and despite working in an incredibly challenging environment—especially over the last couple of years—Natashia never complains. She is a highly-respected and effective leader. She would not ask her fellow care partners to do a task that she would not take on herself. She places a heavy emphasis on superior customer service, and helps her colleagues foster a workplace where employees work hard, have mutual respect, and exhibit kindness and compassion to residents, families and each other.
One of her colleagues recently said, "I remember having an issue that I voiced to Natashia and what I noticed is that she was very focused on my strengths rather than my limitations. It made me feel understood and also helped me to feel better about myself. She just knows what to say."
Natashia is very open-minded. She approaches change with a positive attitude, and she supports A.G. Rhodes' initiatives to improve care delivery. She has been an instrumental leader in the organization's transformation to person-directed care and was a key staff member in helping A.G. Rhodes Atlanta achieve Eden Registry status in 2020. Accommodating the elders' unique needs and preferences comes naturally for Natashia, and as such, she is an advocate for our efforts to train all staff in person-directed care.
Even positive change can be challenging, but Natashia has earned staff support because her colleagues respect and admire her for always acting in the best interest of our residents, families and staff. Given Natashia's unmatched professionalism, attention to detail, responsiveness, compassion and customer service-oriented approach, her work performance is stellar. Not only has Natashia been committed to the job for so long, but her dedication and genuine care inspires and motivates others. She shows others that working in long-term care is more than a job—it's a meaningful calling that is incredibly rewarding and fulfilling. With a team member like Natashia, employees can't help but work harder. Her positive attitude and outlook—and her incredible work ethic—are contagious.
"Our organization—and our industry as a whole—is so grateful for Natashia's compassionate, caring service," Machele said. "She is not only the Social Services Director at A.G. Rhodes, but she is a mentor, a leader, a shoulder to cry on, and a friend and family member to residents, their families, and her fellow care partners."
November 2022