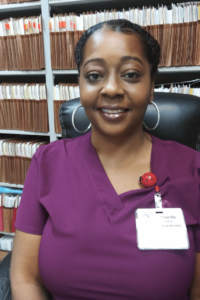 Priscilla Collins has always been interested in the medical field—especially because her father is a nurse—but she recognized that a direct care role wasn't a good fit for her. Though she previously worked in the beauty industry as a master cosmetologist, she was injured in a car accident 10 years ago and it prompted a career change. She explored various opportunities in the medical field at a hospital including in environmental services, the radiology department, front desk support, and patient transport. Then, she went to technical school and earned a health information technician degree.
"I had a deep interest in the medical field and I started looking at the administrative side of things."
Priscilla began working in medical records where she's been at A.G. Rhodes Wesley Woods for the last four years. She enjoys the variety that each day brings.
"Life in medical records: I can never plan it," she said. "No two days are the same."
Priscilla's day includes responding to medical record requests, filing records, and operating on tight deadlines, but she says the best part of her job is lending a hand wherever she's needed.
"My main job is to be a team player. I put the biggest effort into being a team player."
Priscilla will often help a care partner or resident as she's on her way to and from her office or other areas of the building. Having spent a lot of time with her grandparents growing up, she says she's drawn to older adults and loves interacting with residents.
"I love the residents. They keep you smiling. I just open up to them."
She says she tries to make the residents feel comfortable and lets them know how much they are cared for.
"I want everybody to feel like there is somebody who cares. I try to be encouraging. I try to let them know, 'We see you.' I tell them, 'We love you.' If I can do something extra to make them feel happy, I'll try and do it."
Greg Heath, Administrator of Wesley Woods, says Priscilla's willingness to support where needed is an asset to the team.
"Not only does Priscilla excel in her work, but she goes out of her way to help our residents and staff."
As far as her future plans, Priscilla says she loves to learn and explore continuing education opportunities.
"I know I'm not at the end of my educational journey," she said. "I have a lot of interests in a lot of different areas. In the health care world, everything is always changing. In order to keep up, you have to continue with the education."
More about Priscilla:
When Priscilla is not at A.G. Rhodes, she enjoys reading, cooking, meditating, and being outside and walking on nature trails. She also applies her cosmetology experience doing hair for a few clients.
June 2022