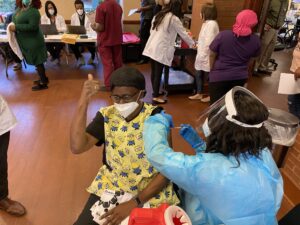 Sharon Hart, an A.G. Rhodes Cobb care partner who has worked in the laundry department for 20 years, finds that humor and laughter are good antidotes, especially in difficult times.
"I try and cheer everybody up," Sharon said. "I try to make employees feel comfortable, and make residents feel better. I'm a people person."
Administrator Melanie Haders agrees.
"Even through the challenges, Sharon has remained positive and continues to encourage her fellow care partners," Melanie said. "She is always smiling."
Sharon also leans on her faith, especially over the last year as COVID-19 has challenged us in unimaginable ways.
"Trust in God in and you can make it through," Sharon said. "We have to keep the faith. If we work together and stay clean and happy, we'll make it through."
Her faith is also what led her to get the COVID-19 vaccine, and she was the very first A.G. Rhodes employee to be vaccinated. She has simple advice for others concerning vaccination.
"You should take it," she said. "It might save you."
Sharon acknowledges that given increased requirements with infection prevention measures, attention to detail is more important than ever. She says she enjoys doing her part to ensure a clean and safe environment.
"Pay attention to your surroundings and be careful," Sharon said. "I love keeping stuff clean and sanitized."
When asked what qualities you should have to work in this field, Sharon says you must be loving, caring and trustworthy.
"I've loved my 20 years and I hope I do 5—or 10—more," Sharon said. "I love what I do."
More about Sharon:
Sharon enjoys spending time with her daughter, who serves in the Army, and her two granddaughters. She also loves to ride her bicycle.
March 2021