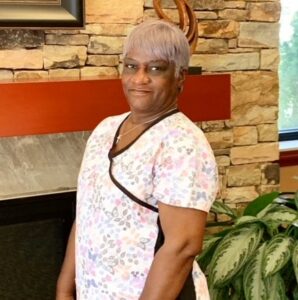 When you encounter Sylvia Marshall, she's usually in the middle of doing something to help or serve someone in some meaningful way.
"We're here to serve," Sylvia said. "That's the way I was raised."
A Laundry Aide at A.G. Rhodes Atlanta, you'll often see Sylvia talking—and even singing—with residents while she works.
"The best part about my job is going around talking to the residents," said Sylvia. "I look forward to coming to work every day."
Sylvia started working at A.G. Rhodes five years ago, but it wasn't her first experience with A.G. Rhodes.
"My mom was a resident there 15 years ago and I remembered that it was a good place."
Sylvia's professional and personal life centers on caring for others. She grew up in a home with caregivers; her mom was a caretaker, one of her sisters is a CNA and another sister is a nurse. Sylvia's 32-year career includes working in home health care, private home care, housekeeping, and she ran a daycare for several years. She and her husband of 46 years have also raised two sons, two daughters and one foster daughter, and they have nine grandchildren and two great-grandchildren.
"I love people. I'm a people person," Sylvia said.
A.G. Rhodes Atlanta Administrator Machele Pace agrees.
"The residents love her. She's not only committed to her job, but she also provides companionship and a listening ear."
When she's not working, Sylvia and her husband help take care of two older adults who live with them, they volunteer at a shelter for women experiencing domestic violence, they volunteer at church, Sylvia cooks meals and runs errands for neighbors who need help, and more. Much of her service is through Seed for Georgia, an Atlanta-based community resource and referral nonprofit organization founded by Sylvia's sister.
Sylvia credits her strong Christian faith for her desire to help others.
"My favorite word is 'wonderful.' It makes me feel wonderful to be of service," Sylvia said.
There's no doubt that Sylvia makes others feel wonderful as well.
April 2022