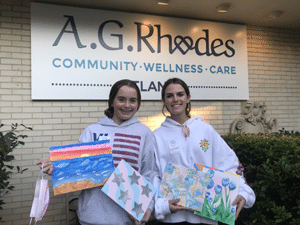 When COVID-19 hit in March 2020, Katherine Andrews—an eighth grader at the time—wanted to do something to lift the spirits of those most impacted, including residents living in senior care communities.
She combined her passion for art and community and created HeART for Charity, including HeART for Seniors, which was inspired by her grandmother's love of receiving handmade art. HeART for Seniors creates and distributes art to residents living in senior care communities across Atlanta.
"Seeing the residents' faces light up at the artwork — and seeing how much fun they have choosing which piece — is why I love this type of charity work so much," Katherine said. "It inspires me to continue working to bring smiles to others' faces, especially those in need of a little extra love!"
Now a tenth grader, Katherine partnered with her friend, Dorothy Verner, to create the HeART Party program, where children come together to create the art which is then donated. Dorothy was previously involved in several community service projects at A.G. Rhodes, and she thought the residents would enjoy receiving art that was created at one of the HeART parties. She was right.
"Each reaction was so genuine, they were so grateful, and showed us that it really touched them and made them feel so loved," Dorothy said.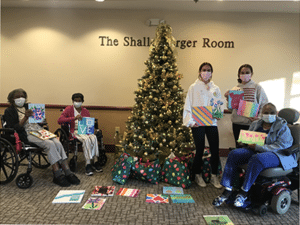 Not only did A.G. Rhodes residents enjoy selecting from many donated pieces, but HeART for Seniors has been a huge success at several senior care communities throughout metro Atlanta.
"It is so rewarding to see how your actions and work affect others, no matter how big or small they may be," Dorothy said.
Katherine added, "We will continue to find places in need of some handmade art by children, and find the children who are interesting in getting involved."
To learn more about HeART for Charity, visit their website, and follow them on Instagram, Facebook, and Twitter.
February 2022