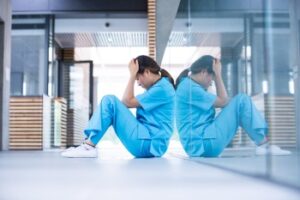 Stress has been at an all time high for so many of us over the last 13 months. Now some of us are experiencing feelings of burnout, which is a typical reaction to prolonged exposure to stress. If left untreated, burnout can spill over into every area of your life.
In recognition of National Stress Awareness Month in April, we want to equip you with information to recognize burnout, and resources to help.
What is burnout? It is a state of emotional, physical, and mental exhaustion caused by excessive and prolonged stress. Most of us can recognize when we are stressed out, but burnout can sneak up on us. It occurs when you feel overwhelmed, emotionally drained, and unable to meet constant demands. Some typical symptoms include:
Every day is a bad day
You're exhausted – you feel tired and drained all the time
You feel like nothing you do makes a difference – you feel helpless, empty, hopeless and defeated
Frequent headaches and muscle aches
Sense of failure and self-doubt
Isolating self from others
What can we do? Some experts recommend the "Three R" approach:
Recognize. Watch for the warning signs of burnout.
Reverse. Undo the damage by seeking support and managing stress.
Resilience. Build your resilience to stress by taking care of your physical and emotional health.
Click here for additional tips to help manage stress and avoid burnout.
This month we focus on the programs offered by A.G. Rhodes and our benefit providers to support A.G. Rhodes care partners in managing stress:
Employee Life Assistance Program has many resources to help you manage and reduce stress, including FREE unlimited telephone sessions and up to three FREE counseling sessions. The Life Assistance Program is provided free of charge to all A.G. Rhodes Employees through Cigna. Click here to access this benefit.
Mental Health Resources: If you have Kaiser Health Insurance, you also have access to many Mental Health Resources. Click here for additional information.
Activities and Events. See your Education & Wellness Manager for upcoming activities and events designed to help you manage stress and avoid burnout.
Additional Resources. Check out your 2021 A.G. Rhodes Benefits Guide for additional resources.
April 2021