April is National Volunteer Month and while the past year has been so different in every way, the commitment from our volunteer community to support our elders (and staff) has remained the same – if not stronger than before. Volunteers have not been able to be physically inside our homes, but that has not stopped them from engaging with our elders in so many creative ways!
We have been so impressed with the ideas from the volunteer community to connect virtually,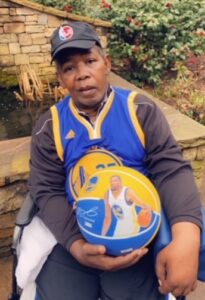 from a series of live art classes led by college students to Current Events sessions led by one of our Board of Advisor and Board of Trustee members, to Zoom music therapy sessions. A group of teenagers even found a way to help fulfill a sports dream for one of our elders: Who would have thought that virtual parties could be so much fun?
Volunteer groups have also worked together to make sure the holidays were still a special time by donating Halloween goody bags, candy-filled Easter eggs, Mother's Day jewelry, or just sending in a pick-me-up treat. When the homes realized they couldn't re-use activity supplies due to safety concerns, volunteer groups stepped in to provide additional supplies. And the many cards, videos, encouraging banners, and artwork that volunteers have made for our elders and staff have brightened many days and encouraged many spirits.
If this past year has been a bunch of lemons, our volunteer community is a big glass of sweet lemonade. We are so grateful for their love, support, and so much creativity in making sure our elders stay connected and engaged. So for this National Volunteer Month, we thank and salute the entire volunteer community and here's to hopefully seeing you in-person again soon!
To learn how you can get involved in helping our residents and staff, visit www.agrhodes.org/ways-to-help.