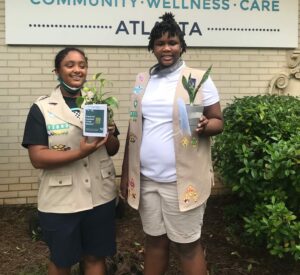 Marlie Petite and Maliyah Morris are proving that there are no age or creativity limits when it comes to giving back.
Both Girl Scout Cadettes in the seventh grade, Marlie and Maliyah met when they were seeking an opportunity for community service to earn the distinguished Silver Award, one of the highest awards in Girl Scouting. Their journey led them to A.G. Rhodes.
Marlie was first introduced to A.G. Rhodes when she volunteered with her troop at A.G. Rhodes Wesley Woods before the pandemic, and during the pandemic, her troop donated boxes of Girl Scout cookies to all the A.G. Rhodes homes.
When she was considering what to focus on for her Silver Award project, she thought of A.G. Rhodes and came up with an idea for how she could combine her own love of plants with a project to benefit the residents.
"I came up with the project idea on a day when I was sitting inside feeling lonely," Marlie said. "I remembered my snake plant so I went to take care of it. When I was near it, I felt less lonely, and I had something fun to do. I was thinking about what to do for my Silver Award and I thought that the residents at A.G. Rhodes must get lonely. I thought if I donated some plants to them, they would feel less lonely."
Marlie's idea was born, and she sought a partner to help with the project.
"I met Maliyah through a Girl Scout Facebook group where I posted a video asking for a project partner and she stepped up. She loves community service as much as I do!"
Marlie and Maliyah named the project PALS: Plants to Assist Loving Seniors. They also received a Black Girl Joy grant from the Southern Black Girls and Women's Consortium to fund the seeds and supplies to grow and propagate the plants, which they then donated to A.G. Rhodes.
Maliyah said that even though she wasn't as familiar with plants, she was excited to work with Marlie on this unique project to benefit the residents.
"I wanted to step out of my comfort zone because I wanted to make a positive impact on people who may not be as fortunate or just need a little extra boost in their life," Maliyah said. "I don't really get to work with plants very often, but it was very easy to propagate and keep the plants nice and healthy. Overall, this experience was very fun for me, and I hope to do many more things like this in the future!"
Kirk Hines, A.G. Rhodes Director of Horticultural Therapy, said the plants have been a welcome and therapeutic addition.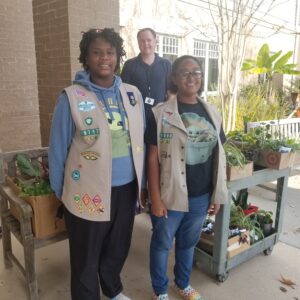 "Plants in our living spaces help to not only improve air quality and produce oxygen, but their presence also produces the desired effects of creating a calm environment, decreasing anxiety and symptoms directly related to depression," said Kirk. "Plants in the rooms of our elders makes them feel more homelike and allows residents to engage in a past leisure skill any time they choose."
Marlie and Maliyah plan to complete their Silver Award application next year. They also plan to teach plant propagation to the Junior Girl Scouts at Drew Charter School with the intent that the junior scouts will continue the important work they started.
December 2021