Employee Spotlight: Carolyn Roper
Carolyn Roper, a concierge at A.G. Rhodes Wesley Woods, epitomizes exceptional customer service. She was recently recognized for it as the recipient of the home's annual Harve Bauguess Customer Service Award. Carolyn is also incredibly modest.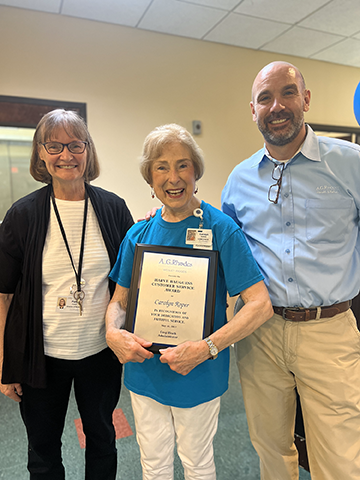 "I was surprised when they gave me the award. I was blown away."
When Carolyn started working at A.G. Rhodes almost two years ago, she assumed it would be temporary. She was hired to help implement COVID-19 screening measures as people entered the building. She loved her job.
"It was pure joy to meet so many family members and staff members," she said.
A few months later, A.G. Rhodes installed screening machines, but it was clear that Carolyn could help the community in many other ways.
"There were two machines to replace me, but I stayed and I've had the great joy of doing several things."
Carolyn now supports different departments with various needs, but one of her favorite things to do is support the activities department in helping residents attend activities, encouraging them to participate, and spending time with them. At 84 years old, Carolyn can relate to many of their life experiences.
"Yes, people do notice I'm their age," she said. "Most of the friends I feel closest to are the ones I do special things for."
For example, Carolyn reads to some residents who have experienced vision loss, including one who enjoys a particular newspaper column.
"I read her the headlines, but then she'll say, 'Can you get to Dear Abby, please?' I hadn't read Dear Abby in years before that."
Carolyn added, "Being able to read to them brought me closer to them. It was a joyful thing."
Carolyn was no stranger to long-term care communities, including A.G. Rhodes, prior to working there. Earlier in her career she was a registered dietitian for a senior care company, and up until a few years ago she worked for a Quality Improvement Organization (QIO)— a group organized by the Centers for Medicare and Medicaid Services (CMS) to improve the quality of care delivered to people with Medicare. In her role she even helped train some A.G. Rhodes staff members. Carolyn is also a resident at Wesley Woods Towers—an independent living community located less than a quarter of a mile from A.G. Rhodes—and she previously volunteered and visited friends at A.G. Rhodes.
"Carolyn was a familiar face around here for a while, and we were so grateful when she joined our team during a critical point in the pandemic," said Greg Health, A.G. Rhodes Wesley Woods Administrator. "Now, she's an essential member of our community."
Carolyn says working at A.G. Rhodes has been a blessing in her life.
"I have a purpose," she said. "I love being here. I love the people who are here. I'm grateful for this opportunity to be of any help I can be. It's a gift."
June 2023