Over 42 years ago, Randy Brewer paid a visit to A.G. Rhodes Atlanta in hopes of securing a job. While the initial position didn't work out, someone suggested that he look into becoming a Certified Nursing Assistant. So, he did, and now he's been a CNA Care Partner at A.G. Rhodes Atlanta for 42 years serving many people and enjoying the work along the way.
"A.G. Rhodes Atlanta is my second family. I see some of my coworkers more than my family at home," Randy said.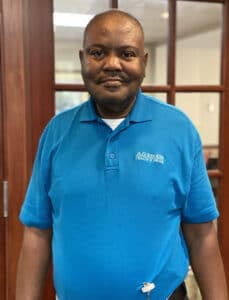 Randy is originally from Lafayette, Alabama but relocated to Atlanta in 1970 and quickly made a home here. Married for 40 years, with two children and seven grandchildren, Randy is no stranger to serving others and working hard to provide for his family.
"My family and coworkers would describe me to be dependable, reliable, and trustworthy—I'm always going to be there and always willing to go the extra mile," he said. "I've had a great experience here at A.G. Rhodes Atlanta. The last 42 years have gone by too fast. I met many great people, elders, and staff that I've learned so much from."
Like all care partners, COVID-19 impacted Randy in many ways.
"COVID changed the world. It is unlike anything we've experienced before," he said.
This year, Randy, his wife, and his daughter all caught COVID-19, and since Randy was the only one vaccinated, he only had mild symptoms while his wife and daughter suffered more severe symptoms.
"I encourage everyone to get vaccinated," he said. "You have everything to gain and nothing to lose. It's the right thing to do to make a difference in this pandemic."
Randy's advice to younger people coming up in this field is to keep going and find purpose.
"Go further and don't settle," he said. "If you're a CNA, work to become an LPN, and if you're an LPN, work to become an RN. Make sure you take care of yourself, go to school, and figure out what exactly it is that you want to do."
During Randy's free time, he likes to watch all sports. He is a fan of all Atlanta teams.