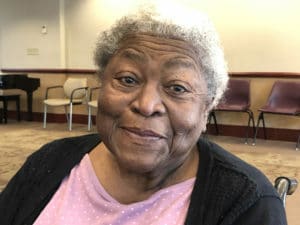 Alice Isreal, an Atlanta native, worked at Morehouse College for many years before she retired from there. She started off as a dishwasher but her personality and willingness to help prepare food when the kitchen needed extra hands was noticed by the wife of Hugh Morris Gloster, the college president at the time.
"His wife [Yvonne King Gloster] came into the kitchen and saw the beautiful salads I was making," said Isreal. "She watched my work, and so she came to me one day and said, 'You do such beautiful work, would you come help me?'"
Isreal took on an additional job to help cater and prepare food for functions hosted at the president's home. Gloster was so impressed that she encouraged Isreal to go to school and earn a degree where she could better use her talents. With Gloster's encouragement and help, Isreal attended Atlanta Area Tech where she majored in food service.
After finishing school, Isreal continued at Morehouse for more than 20 years and retired as the manager of the school's food services. Her love for the job ran in her family.
"My father was a cook and I always watched him," she said.
Isreal's favorite meal to prepare at the college was the big Sunday dinner which usually included baked chicken, cranberry sauce, some type of green vegetable, rice, mashed potatoes and dressing. She said the students at Morehouse—an all-boys school—devoured the meal each week, particularly her dressing.
"I made so much dressing, I would be cross-eyed when I'd leave work," Isreal said.
Isreal has been a resident at A.G. Rhodes' Atlanta location for about a year and a half. She came to learn about A.G. Rhodes because her mother was a resident here for four years until she passed away in 2013. Isreal speaks fondly of the staff, some of whom attended her mother's funeral and are still here helping care for her.
Isreal enjoys playing bingo and attending the religious ceremonies, among other activities. At 84-years-young, she's made many friends with her warm and jovial personality.
"I used to be a loner, but since I've been here, people know me from the back of my head,"she said.
June 22, 2019
Riley Greene contributed to this spotlight.