Employee Q&A with Vanissa Johnson, Activities Director, A.G. Rhodes of Atlanta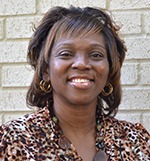 Vanissa Johnson, the Activities Program Director at A.G. Rhodes of Atlanta, has been around seniors all her life, and in April 2017, she celebrated her 25-year anniversary with A.G. Rhodes. Learn more about how Vanissa got into the long-term care field, and what she enjoys about her job.
How did you get involved with working with elders at A.G. Rhodes?
I grew up spending the summers with my grandmother and great grandmother and I've always enjoyed being with the elderly. Those are some of my fondest memories—cooking with my grandmother and great grandmother, just sitting down and talking to them.
After I graduated college with a degree in Sociology, I was looking for jobs and I called A.G. Rhodes to see if they were hiring. At the time, they were about to open their Cobb location, and I got a job there as the Social Services Director.
A few years later, there was an opening at the Atlanta location, but it was in the Activities Department. I was interested in pursuing that so I took a certification course and transferred there in 1997 to become the Director of Activities.
What do you enjoy most about your job?
I am really excited when we're doing the activities and I see the expressions on residents' faces. I see them laughing, dancing and when they say they really enjoyed an activity, that just means so much to me. Just to see the smiles on residents' faces means a lot.
Describe your view on caring for our elders, and about aging?
I feel that the older generation has lived their lives, they are well-educated people, they've worked in different positions and they've raised their families. It's their time to be taken care of.
Older people have a lot of wisdom. They share their life experiences, and it amazes me even with residents who have dementia or Alzheimer's, what they do remember. We do a lot of trivia, and they're able to recall things. What's really great is when we do our sing-alongs, they know a lot of those songs. It's our job to pull out the knowledge that they have.
Many times, residents just want someone to sit and talk with them, and they want to be cared for by people who are genuine. Most of the residents have families, but we're with them the majority of the day. It's a blessing to make their day more pleasant.
What do you do to improve care?
I make a point to get to know the resident as soon as they come in, and I think they really appreciate that. I feel that that helps us provide the best care for the residents. Some are very outgoing and sociable, while some are more laid back and prefer staying to themselves. Really getting to know the residents and their families is important.
How would you describe your relationship with your coworkers?
We're together eight hours out of the day and so they become your extended family. We work together well. Everyone wants to see others succeed, and all the departments are willing to help each other.
We've celebrated birthday parties, baby showers and other milestones—it does feel like a family—being able to share different experiences with your coworkers.
What has kept you at A.G. Rhodes for so long?
The reputation of A.G. Rhodes. I have seen the way we run the day to day operations, and the interactions with the residents. It's different than many other places. I wouldn't want to work at any other health care facility
I feel that the staff genuinely cares. The fact that I have 25 years here, but we have some who have been here 30, 40 years. I just think that's awesome. You rarely find that in this day and time. It's a company that you can work for and feel proud of.
What have you seen change?
The addition of the therapy and rehabilitation services. We have residents coming in for maybe two to three weeks, get rehab and then go home. That's been a big plus. Watching those residents recuperate and go back home is great.
We've also been focusing on person-centered care, and what the resident really wants. That's helped us better see things from their point of view.
What advice would you have for someone coming into this field?
It seems simple, but treat the residents the way you would want to be treated—the way you would want your grandmother to be treated. Listen to the residents. It's important to hear their point of view.
You have to learn to get along with all personalities. Respect your coworkers' point of view and try and get along with each other. Also, come to work when you're scheduled, and be timely. My staff knows how important that is to me.
Any final thoughts?
I look at my position as a blessing. I'm able to spend time with some wonderful seniors, and to help enrich their lives. In turn, they end up enriching mine.