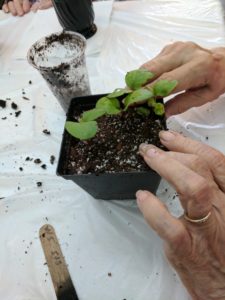 A year and a half after residents at A.G. Rhodes' Wesley Woods home sowed seeds from a rare plant during horticultural therapy sessions, seedlings have emerged and this new growth is giving researchers more clues about the mysterious plant.
The American starvine is a threatened plant found in less than 30 known sites in the United States, the most concentrated of which is around Emory's Wesley Woods campus where one of A.G. Rhodes' three homes is located. Conservation efforts between Emory and A.G. Rhodes have resulted in advances toward understanding more about the plant and how to preserve it.
In addition to studying the starvine plants that were propagated from seeds during horticultural therapy sessions with residents, a vineyard that was built in A.G. Rhodes' back yard using starvine cuttings is also under observation.
While the starvine is a prehistoric plant, there are still many characteristics which are unknown. There is some evidence that it may have been used medicinally, and those observing the plant hope more clues will emerge as efforts to study it continue.
"This has been a wonderful project for us during horticultural therapy sessions, but it's also a meaningful collaborative endeavor to conserve a species that hasn't really been studied until recently," says Kirk Hines, the Horticultural Therapist at A.G. Rhodes who has been involved for several years researching and preserving the plant.
Carl Brown, an Emory field biologist and adjunct faculty member in Environmental Sciences, took interest in the starvine more than a decade ago, and has been coming to A.G. Rhodes weekly to study its progress. He hopes that his observations will help him better understand how the plant grows in the wild. So far, successful propagation of the starvine at A.G. Rhodes suggests that the now-threatened plant may have a chance to flourish again one day.
"Not only have we gained unexpected insights into the ecology of this almost unknown plant, which has been in our native forests since the time of dinosaurs, but recent progress offers us hints about its medicinal value to Native Americans who once flourished here," says Brown. "I am particularly intrigued that A.G Rhodes elders are helping us better understand our natural and cultural heritage."
For now, residents at A.G. Rhodes are taking advantage of the unique opportunity to protect this rare species.
"Residents are eager to help aide the progress we've had so far," says Hines. "It's not only a therapy session for them, it's a contribution to our environment."
Read more about efforts to preserve the starvine:
Residents Embark on Preservation Effort to Save Rare Plant (December 19, 2014)
Native starvine nursery to take root at Wesley Woods (December 8, 2014)
Taming the wild starvine (February 18, 2013)
Saving the starvine (July 22, 2012)