At A. G. Rhodes we are committed to bringing innovative programs to our patients and residents. Our three, metro-Atlanta homes offer advanced therapy programs, such as Music Therapy, that focus on unleashing positive self-expression through creativity. These programs, run by our specialized therapists, simultaneously promote therapeutic benefits while occurring in fun social environments.
Our Music Therapy program, and its initiatives such as Songs for Seniors, has consistently yielded impressive results, especially in individuals who suffer from cognitive conditions like dementia or Alzheimer's disease. Research by the Alzheimer's Foundation of America shows that reintroducing familiar songs from early adulthood into an older adult's life can help them recall long-term memories. This allows them the potential to unlock memories that are otherwise inaccessible. Music memories are some of the longest-lasting memories, and reconnection with beloved songs can improve emotional well-being by calming cognitive activity and allowing an individual to ground themselves more fully in the present moment.
The Songs for Seniors program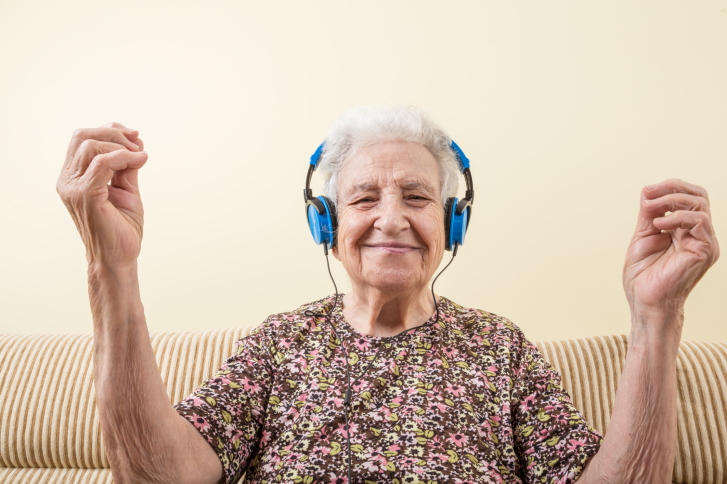 As part of our Music Therapy Department, we offer the exciting Songs for Seniors program. Our staff is certified by the MUSIC & MEMORY℠ Certification Program to create specialized playlists tailored to each resident's specific interests. We start by selecting songs linked to happy memories or positive milestones in their earlier lives. Tailored playlists help to facilitate an individual's ability to recall past events. These listening sessions, offered either individually with an iPod or music device, or in a group setting, promote a greater level of engagement and awareness that lasts throughout the day.
Music Therapy and the Holidays
During the holidays, music therapy can be especially beneficial. Traditional carols and other familiar festive songs can trigger a resident's joyful memories of holidays spent surrounded by loved ones. It can be a bonding experience to listen to these songs together, much like reliving cherished family gatherings. Music is also known to trigger emotional closeness, even in the most astonishing cases. As dementia progresses, for instance, an individual becomes less likely to express verbal or physical affection with family members. They can, however, still sway to the music's beat, even in late stages of the condition. Individuals who are still relatively mobile may even benefit from the exercise of moving and dancing to music. For those less mobile, singing holiday songs together and simply tapping feet or clapping can be beneficial.