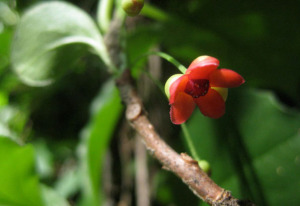 By Mary Olsen, A.G. Rhodes Communications Director
Residents from A.G. Rhodes will soon embark on a unique effort to preserve a plant so rare that it's found at less than 30 known sites in the United States.
The native starvine's existence is in jeopardy, but in the upcoming months, a vineyard will be installed behind A.G. Rhodes' Wesley Woods home, which is located on Emory's Wesley Woods campus.
Residents there will contribute to the protection of the plant during horticultural therapy sessions led by Kirk Hines, A.G. Rhodes' Registered Horticultural Therapist.
"They'll be involved in propagating and potting cuttings, and some young vines will be reintroduced into the wild in order to maintain and improve the population of the plant," says Hines.
Hines says that residents are looking forward to the opportunity. Maynard Bates, a resident who has been an avid gardener for most of his life, is particularly interested in the starvine because it reminds him of past outdoor enjoyments.
"It carries me back to my youth," recalls Bates. "My father and grandfather were woodsmen and I spent time with them in the outdoors. My grandfather would harvest wild ginseng and would teach me to look for these interesting native herbs."
Hines notes that this opportunity also demonstrates the contributions that people can make at any age.
"Residents like knowing that what they're doing is significant. They're not just doing activities to pass the time, they're doing something to help our environment, and that's an incredibly meaningful contribution. They are giving back. That's important for everyone, not just older adults."
The vineyard, which is scheduled to be installed by the spring, is possible thanks to Emory student Andrew Gonzales, who raised more than $5,200 to fund the installation.
"It makes me feel great that my donation is helping preserve a threatened plant that plays a role in the complex ecosystems in the Georgia Piedmont region," says Gonzales. "I'm also happy that it's giving people at A.G. Rhodes the opportunity to work on something they might find enjoyable."
Gonzales, Hines and others are among a group of people who call themselves Team Starvine—all dedicated to protecting the plant.
Team Starvine
Nearly a decade ago, Carl Brown, an Emory field biologist and adjunct faculty member in Environmental Sciences, took interest in the starvine and its long-rooted history. There are signs that the plant, which once flourished throughout the Southeast, was cultivated by Native Americans. Emory's campus is one of the few places where the starvine still exists.
"There seems to be a connection between old tribal towns and where the starvine grows, and there's some evidence that it was used medicinally," says Brown.
In 2011, Brown shared his interest in the starvine with Hines, who at the time was the Horticultural Therapist at Emory Wesley Woods Hospital. The two teamed up and took action to protect the plant. Brown gave Hines some cuttings from the wild starvine and Hines worked with his patients to propagate and cultivate the plant during horticultural therapy sessions.
In 2012, Gonzales learned about the starvine when he took Brown's Environmental Sciences class. He took a keen interest in the rare plant and chose it as a research topic for a class project. But Gonzales' interest continued after he completed the project. He began working with Brown and Hines on identifying opportunities to help continue its preservation.
Gonzales, who at just 10 years old became fascinated with gardening while growing vegetables with his uncle in a community garden in Colorado, spent more than two years raising money for the starvine. Most of the funds came from his personal earnings while interning summers in the sustainability department of a construction company in Colorado. He hopes the vineyard at A.G. Rhodes will help people understand more about environmental protection.
"What I'm hoping others will learn is how important every species of plant and animal is to the proper functioning of ecosystems; the same ecosystems that allow our society to function through resource extraction, and cleaning our air and water, among many other services."
Brown is impressed with his former student's determination in moving the project forward.
"As a teacher, it makes me happy whenever students follow something that interests them," he says. "It has been a great experience for me to see Andrew come up with the idea and follow it up."
This past October, Gonzales presented Hines with the check that will fund the vineyard at A.G. Rhodes, which is where Hines has been working since 2013 following the Horticultural Therapy program's closure at Wesley Woods Hospital. Hines still maintains a strong partnership with his former Emory colleagues, especially Brown who notes that the vineyard's location will allow the cultivated starvine to grow in the same environment where the wild starvine grows.
"One of the important parts of this work is that the starvine is being grown in the same habitat where it's found naturally," says Brown.
Hines says he looks forward to continued collaboration with Emory, and the conservation and learning opportunities that will result from the vineyard. He also hopes the vineyard will be a component of future horticultural therapy gardens that residents, staff and others can enjoy.
"It's going to be a place where professors and staff members can bring visitors to see the starvine without endangering it in the wild," he says. "Students can come and learn not only about the starvine, but to interact with residents, and learn about horticultural therapy. Residents love when students visit, and students can learn a lot from older adults."
Hines says the vineyard will also be significant for future research efforts, which Gonzales plans to stay involved in even if he relocates after his 2015 graduation.
"I'd like to continue to be a part of the care and research of the starvine," Gonzales says. "Even if I move to another state next year to work, I'll be sure to stay up to date on the growth and help with research when I can."
Although there are limited research findings on the plant or its medicinal benefits, Brown thinks it may have similar effects as the native starvine's cousin, the Chinese starvine.
"It's used in China as a natural anti-inflammatory and as a rejuvenation medicine, and the native starvine may have similar qualities," says Brown.
Regardless of potential medical or other benefits, Team Starvine agrees that the conservation of the plant must continue.
"We have to be good stewards of this plant," Hines says. "There's a potential that it could have some healing properties, but whether it does or not, it's important for us to care for it. If one thing disappears, what else does it affect? You never know."
Read more about efforts to preserve the starvine from Emory's website:
Saving the starvine (July 22, 2012)
Taming the wild starvine (February 18, 2013)
Native starvine nursery to take root at Wesley Woods (December 8, 2014)