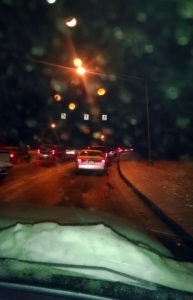 Two weeks ago the Atlanta area was impacted with snow and ice that resulted in major gridlock and disruptions across the city and throughout the state. Fortunately, the A.G. Rhodes homes and their employees were prepared, and now they're getting ready for more winter weather expected this week.
"One of the biggest challenges we prepare for during winter storms is ensuring that the homes have enough staff so that our residents still receive the best care possible," said Jerry Patton, A.G. Rhodes Chief of Operations. "We know that once the streets are covered with ice and snow, employees may have a hard time getting from home to work or from work to home, so we have to think about that before it happens."
In anticipation of storms and their possible impacts on employee commutes, additional staff are called in and employees are alerted that their shifts may be extended. The facilities use extra beds and air mattresses so that if needed, employees can stay overnight. Additionally, the homes have four-wheel drive vehicles that are used to pick up and drop off staff members who otherwise wouldn't be able to commute between home and work.
"Everyone really pulls together when we have situations like these," said Patton. "We know that our residents and their families depend on us so we do everything possible to prepare."
The homes have extra food and supplies in case vendors can't deliver items to the facilities, and generators are available if the power goes out. Additionally, maintenance staff pre-treat and maintain pathways outside the homes so that necessary areas are clear for emergency vehicles, if needed.
Staff stay in contact with families who call to check on their loved ones, and daily activities and routines continue as close to schedule as possible so that residents are comfortable.
"Our employees are committed to making sure residents are safe, warm and happy, despite what Mother Nature brings," said Patton. "They treat the residents, and each other, like family."