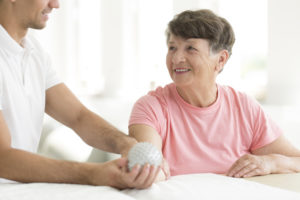 More than 795,000 Americans have a stroke each year, and startlingly, a third of these patients haven't even reached retirement age.1 Without proper rehabilitation, those who have had a stroke may find it difficult to work, socialize and care for themselves.
Fortunately, most stroke patients can benefit from rehabilitation services. Research indicates that such intervention can reverse some of the effects of stroke, allow patients to relearn skills they've lost and maximize the skills that remain for a more enjoyable and productive life.
Abilities Lost After Stroke
Strokes are caused by oxygen and nutrient deprivation in the brain, usually due to a blood clot blocking blood flow, and affect all parts of the nervous system and the body. They also cause mild to severe side effects in most people, which is why they are the number one cause of serious long-term disability in the United States.1 Most of the effects can be grouped into five main categories:
Motor Function – paralysis or weakness on one side of the body, difficulty walking or grabbing items, trouble swallowing (dysphagia), loss of coordination (ataxia)
Sensory Issues – pain stemming from the weak or paralyzed part of the body, muscle spasms, inability to sense touch or temperature changes
Speech and Language – trouble producing or processing language (aphasia), including recalling words for common items, stringing sentences together or interpreting what others have said
Thinking and Memory – poor short-term memory, difficulty learning new skills, inability to acknowledge the stroke (anosognosia) or recognize one side of the body (neglect)
Emotional Distress – mental disorders like depression and anxiety, uncontrollable mood swings, more frequent feelings of sadness or anger
Rehabilitation can help patients focus on one or all of these symptoms as they begin to piece their lives back together. While rehabilitation doesn't guarantee the restoration of function, people tend to do much better with some rehabilitation than none at all.
Where Rehabilitation Takes Place
Rehabilitation often begins in the hospital one or two days after immediate stabilization and treatment following a stroke. The patient may be guided in practicing simple tasks, such as using an affected limb or traveling to and from the toilet. Over the course of several days, the patient may be able to perform a wider range of activities.
After immediate recovery, the patient usually chooses between several basic types of rehabilitative care. During inpatient care, the patient will stay overnight at their rehabilitation center. The rehabilitative regimen is typically intense and lasts for a shorter period of time. For example, a patient may stay in a hospital, rehab unit or subacute care for a few weeks. During the program, they will complete rehab exercises several hours each day for five or six days a week. This is a very focused program meant to address multiple issues and build a patient's strength more rapidly, but only certain patients can handle this rigor.
Outpatient care at outpatient centers or doctor's offices allow patients to spend time at home and attend rehab two or three times a week for a few hours each session. If a patient needs around-the-clock care but cannot handle the speed of typical inpatient programs, a skilled nursing facility may be a good alternative.
Some patients may also qualify for at-home rehabilitation. However, there usually must be a reason (besides transportation) that the patient cannot attend another rehabilitation program.
The length of rehabilitation is usually tailored to the individual patient. According to Mayo Clinic, rehab can be beneficial even a year or year and a half after a stroke.2
Specific Rehabilitation Strategies
The power of rehabilitation lies in the team of professionals who help the patient. Each member of the rehab team handles a different part of recovery so patients get a full range of services and expertise. Some of the professionals who help with rehabilitation include:
Physiatrists – Specialize in physical medicine and rehabilitation, and lead the rehabilitation team
Neurologists – Treat patients with neurological conditions, typically at the hospital and occasionally throughout long-term rehabilitation
Rehabilitation nurses – Assist patients with medication and activities of daily living (ADLs)
Physical therapists – Improve patients' motor function through mobility, balance and coordination exercises like range-of-motion exercises, hydrotherapy and constraint-induced movement therapy
Speech-language pathologists – Help patients overcome aphasia by teaching language production and comprehension skills and work with patients to strengthen swallowing muscles
Social workers – Guide patients in making decisions about lodging, care and finances
Occupational therapists – Teach patients how to complete ADLs like getting dressed and bathing, finish simple tasks like cleaning and modify their living environment to accommodate their needs
Psychologists and psychiatrists – Provide individual and group counseling services and, in some cases, medications like antidepressants to improve mental health
Vocational therapists – Set patients up to successfully return to work by polishing resumes, assisting in job searches and making sure patients understand the legal protections for people with disabilities
Therapeutic recreation specialists – Improve patients' overall health by getting them involved in social and recreational activities
Case managers – Coordinate care services behind-the-scenes and advocate for patients
Receive Stroke Rehabilitation at A.G. Rhodes Health & Rehab in Metro Atlanta
A stroke can turn your life upside down, but you don't have to go through the rehabilitation process alone. Here at A.G. Rhodes Health & Rehab, we approach rehabilitation from a care partnership philosophy that recognizes every team member's value, from the physical therapist to the patient and their family members. Available rehab services include:
Rehabilitation gyms that incorporate unweighting technology
A therapy pool (Atlanta location only)
Horticultural therapy
Music therapy
Gaming consoles and tablets to supplement rehab
And much more!
Our nonprofit was founded nearly 115 years ago, and today's staff care just as much about providing quality rehabilitation services as we did then. Call us at (877) 918-6413 to learn more about our services.
1https://www.cdc.gov/stroke/facts.htm
2https://www.mayoclinic.org/diseases-conditions/stroke/in-depth/stroke–rehabilitation/art-20045172?pg=2