How to Communicate with a Loved One who has Dementia
Posted on July 26, 2017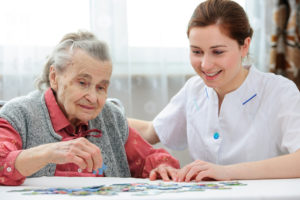 Communicating with a loved one who has dementia can be challenging, especially if they aren't always able to verbally communicate their thoughts and desires. In addition to affecting memory, dementia can make it difficult for your loved one to find the words they need to communicate more complex concepts and feelings. By taking the time to make communication easier for your loved one, you can help them stay engaged and communicative for many years to come.
Set the Scene
People living with dementia may be more prone to distractions by lights, noises, and activity. To help make it easier for your loved one to communicate, ensure they are comfortable by setting up an environment where they are better able to focus on the conversation. Turn off the television and radios and find a quiet, calm place where the two of you can focus on each other. Project a positive attitude before, during and after your conversation so that your loved one is more relaxed and receptive. If you find yourself frustrated, take a step back and a deep breath before pursuing a conversation.
Hold your loved one's attention by maintaining eye contact, addressing them by name and identifying yourself clearly with your name and how you're related to them. If they struggle to stay focused on you, use a light touch to re-focus their attention.
Speak Plainly
Though we may never think about it, people often speak to each other in nuanced and vague terms. Unfortunately, this way of speaking can confuse and frustrate those who live with dementia. When beginning your conversation with a loved one with dementia, be sure to use short and simple sentences and avoid vague and confusing language. Speak slowly and calmly, and repeat yourself if your loved one doesn't understand the first time.
If you're asking your loved one questions, ask simple inquiries rather than complex ones. For example, "yes" or "no" questions, or questions where you also present options, can help your loved one better process the question and respond.
Practice Patience
When your loved one gets confused or frustrated, it can be difficult to remain calm and collected. You want the best for them, so it's hard when you have challenges understanding something as fundamentally important as what will make them happy and comfortable. Practicing patience is key during these times, as well as finding ways to help you and your loved one remain calm. Perhaps a change of scenery might help, such as going for a walk with your loved one or grabbing a bite to eat. No matter how negative your loved one feels or responds, reply with love and reassurance above all. Their feelings are real, and reassurance and attentiveness can let them know that you're there for them.
Enjoy a Fruitful Relationship with Your Loved One
You care about the well-being of your loved one with dementia, but there may be a time when you need extra help. Let the memory care professionals at A.G. Rhodes offer the assistance and compassion your loved one needs. Our gentle and thoughtful staff specialize in providing understanding and attentive care to seniors who have dementia or Alzheimer's disease. Enjoy a more stress-free relationship with your loved one. Contact us online or call 877-918-6413 to schedule a tour of our campus, or to learn more about our extensive list of long-term care services for seniors.