By Kim Beasley, Director of Volunteer Services and Community Engagement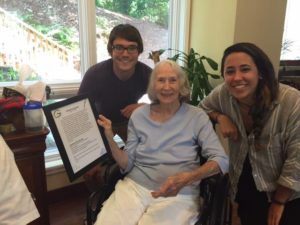 Our Wesley Woods and Atlanta homes recently hosted more than 20 college students from across the country who spent three days interviewing more than 20 residents and recording their oral histories. The interviews were conducted in the StoryCorps format and archived through StoryCorps in the American Folklife Center of the Library of Congress.
The students were here as part of Break Away's Alternative Break Citizenship School. Break Away is a national nonprofit organization that promotes the development of quality alternative break programs through training, assisting, and connecting campuses and communities. We hope that students who participated in this project will go back to their schools with a greater understanding of aging, and that they will plan a future Alternative Spring Break trip with A.G. Rhodes.
During the closing reflection, the students presented each resident with a framed write-up of their interview and they said a few words about their time together. It was an incredibly moving experience listening to students talk about what they learned from their new friends, and the residents loved the opportunity to tell their own stories and impart words of wisdom. There were many hugs that day!
Here are some special moments from the closing reflection: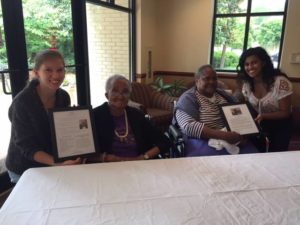 "Her incredible trust in God inspired me to not worry so much about what will happen in my life, and just believe that everything has a purpose. Hearing about her amazing relationships with her mother and husband reminded me that there is so much love in the world and everyone deserves a piece of it."
– Ann Marie, Break Away student leader, about her interview with resident Curtis Kelly.
"Good, better, best. Never rest until your good is better and your better is best."
– Harriet White, A.G. Rhodes resident. Click here to listen Ms. White's interview.
"You bake the cake; I'll make the ice cream."
– Julia Berry, A.G. Rhodes resident, on describing her successful marriage. Click here to listen to Ms. Berry's interview.
Bernice Taylor
Ruth Watts