If an older loved one is having trouble living at home, moving into a nursing home may be the best choice for the whole family. While most seniors hope to live out their lives in their own homes, mobility issues, health problems and outside forces often make that near impossible. If you are worried about an aging parent, grandparent or older loved one living at home, it may be time to call a family meeting and discuss the possibility of transitioning into an assisted care situation.
Moving into a nursing home can be stressful situation for seniors, especially men and women who have been independent all their lives. You can make the transitioning process easier for your loved one by making the right preparations and gathering the required information well in advance of the actual moving day.
One of the first things loved ones should do when considering nursing home care is speak to the facility's staff and administrators to find out if the facility will be a good fit. Additionally, we encourage you to tour any nursing homes you are considering for your loved one.
At A.G. Rhodes, our homes are staffed with individuals who are committed to ensuring the well-being of our residents. Each of our locations in Cobb, Atlanta, and Wesley Woods have certified nursing assistants and other nursing staff, therapists, admissions staff, activities staff, social services staff and more. They can tell you about life in the nursing home, and the information they provide can be invaluable to both you and your loved one.
Nursing home staff can also give you tips to make the transition easier for everyone involved and can answer frequently asked questions. They can, for instance, tell you what your loved one should – and should not – bring with them when they move in. Having a few personal items can make the transition to a nursing home easier and less stressful, so pack carefully and pay close attention to the instructions of the management team at the facility.
Be sure to pack up your loved one's favorite clothes, personal hygiene and other allowed items. Most nursing homes, including A.G. Rhodes, provide a quality laundry service, but if you prefer you can make arrangements with the nursing home to do the laundry yourself.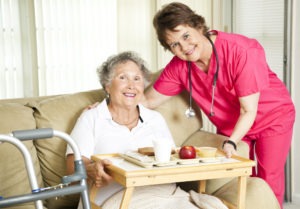 Food is another important consideration for older men and women as they transition into a nursing home. Active seniors who have grown accustomed to eating what they want and preparing their own meals may have trouble adapting to the home-cooked meals the nursing home provides.
You can make the transition easier by providing the nursing home with information on the dietary needs of your loved one, including any dietary restrictions and preferences they may have. You can further prepare your loved one for the transition to their new eating schedule by reassuring them that the registered dieticians at the facility have their best interests – and their good health – at heart. At A.G. Rhodes, we also encourage you to purchase a meal ticket and come dine with your loved one.
Cleaning is another important consideration for seniors transitioning from their own homes to nursing home care. Fortunately, newer approaches to cleaning, disposal and ventilation have made tremendous improvements in the atmosphere at nursing facilities. At A.G. Rhodes, our Environmental Services Department of housekeepers and maintenance staff takes exceptional care in providing a safe, clean and comfortable environment, including resident rooms, hallways, common areas, restrooms and more
The transition from independent living to nursing home care can be challenging, but nursing homes offer many amenities that can make it easier, and friendly staff that will help you and your loved one along the way. Additionally, many facilities such as A.G. Rhodes offer several innovative programs and therapies for seniors to adjust comfortably, socialize with other residents who share commonalities, and allow as much personalization within their living quarters to ensure the transitions is as warm and comfortable as possible. With the right support and the care of loved ones, older men and women can make the transition with ease and improve the quality of their later years.