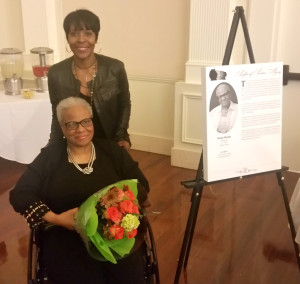 Tanita Dennis, a resident at A.G. Rhodes of Atlanta, was honored on November 8, 2015 at the Profiles of Positive Aging Gala. The event pays tribute to seniors who have changed lives, achieved a positive aging lifestyle, and continue to give of their tremendous talents and wisdom.
The Profiles of Positive Aging Gala is hosted by LeadingAge Georgia, a statewide association that represents the key not-for-profit and other mission-driven organizations dedicated to providing quality housing, health care and community-based services for seniors.
Read the nomination for Ms. Dennis, including quotes from her family:
Tanita Dennis exemplifies "positive aging". She has a humble spirit, which she credits to her Christianity and strong faith in God. She has personal devotional time daily, where she reads her Bible and listens to motivational messages, and scriptures are displayed in her room to keep her encouraged and to encourage others. She always wears a warm smile. Every Friday she greets the staff by saying, "Good Morning, it is TGIF!"
Ms. Dennis leads by example and others are inspired by her outlook on life. She's not afraid of getting older, and embraces it. She says, "You're only as old as you act."
Ms. Dennis is very active at A.G. Rhodes. She's the Vice President of the home's Red Hat Society club, and she helps plan a Fashion Show that's held at the home for over 75 metro Atlanta Red Hatters. She also enjoys bingo, cards, outings, horticulture and music therapies, movies, religious services and current event discussions. She likes older movies, especially westerns starring John Wayne.
Ms. Dennis' family is extremely important to her. She has two daughters, a son and four grandchildren. Below are excerpts from letters her family wrote about how much they care for her, and how she exemplifies positive aging.
Denise Smith, Sister:
"If you look up caring, sweet, thoughtful and kind in the dictionary, you should see a picture of Tanita, my sister "Neat" as we fondly call her. I thank God for her and what she means to our family."
Craig Smith, Brother-in-law:
"I have found a true friend. We are always happy to see each other. We have never had any arguments and incredibly, no disagreements either! I love my sister and cherish her. You need to know that she is kind, thoughtful and has empathy for others."
Tasha Dennis, Daughter:
"My mom has dealt with many health issues and never complained and always saw the positive side of her sufferings. She believed that in her sufferings and keeping a positive attitude, she might encourage others to stay strong and not give up when life is difficult."
My mom's positive attitude has made such a huge impact on me. Just watching her deal with so many difficult things in life with such grace and positivity (because she knows that she knows, deep in her heart, that God is in control) has been a blessing and one of the greatest gifts she's ever given me!
What a tremendous example she has been for me and I am so thankful and honored to be her daughter!"
Terri Seals, Daugter:
"My mother gave us a wonderful childhood experience. I never knew her strength and sacrifices until I became a mother. She always put her family first and she made it look so easy. The mother I am today is because of her!"
Robert Seals, Son-in-law:
"When she learned that I lost my mom, she insisted I call her "mom" instead of Mrs. Dennis. I know she had many difficult patches along the road, but she didn't let that stop her from keeping the faith and knowing whom to call on. Mom is a strong black woman!"
Garrett Dennis, Son:
"Mom, you were my first love. Thank you for teaching me how to love. Because of your unconditional love, I am able to unconditionally love my wife and kids. Thank you for teaching me to appreciate the little things in life. You always encouraged and believed in me. Even when times were hard, I could count on you to share with me the brighter side. I am honored to call you my mom and very first love."
LaTasha Dennis, Daughter-in-law:
"Tanita 'MommaNeat' Dennis is The Total Package…the beauty, the brains, and the fortitude. In the almost 20 years that I have known her, I have never seen her go anywhere or start her day without being dressed for both spiritual and physical success. She is a smart, strong and courageous woman of God who knows what she wants and she is not afraid to express it! And never once have I ever heard her complain. She exhibits resilience, strength, and courage no matter what the situation and circumstances look like."
NaTasha Davis, Granddaughter (26):
"As a child, some of my happiest memories are with my grandma. She never let a walker keep her from being the best grandma a child could wish for! When I wanted to learn to cook breakfast, she was there, teaching me to stir grits. When I wanted to learn how to grocery shop, she was there to teach me how to read the labels and budget my money. And when I told her that she brought Jesus into my life and I wanted to get baptized, she was there, smiling the entire time!"
Brandi Davis, Granddaughter (20):
"My grandma means a lot to me for the simple fact that she has always been the one person that I can trust and count on! Since I can remember, we've always enjoyed eating snacks, catching up on life and of course watching cartoon movies (The Lion King is our favorite). The most important part of our relationship is our promise to each other. To never leave one another. And so far, so good!"
Garrett Dennis II, Grandson (14):
"Grandma Neat is everything a grandson would ever want in a grandma! She is loving, caring, sweet, and always there for me!"
Samantha Dennis, Granddaughter (5):
"I love her very much!"
Michelle Lewings, Goddaughter:
"She is someone who loves her family and wants the best for them. She is someone who has been a spiritual mother to me. She is someone who makes every effort to put the Lord first. Someone who desires to be honored. But most of all, she is someone that brings encouragement to any and everyone that crosses her path. You won't leave her presence without a smile on your face!"