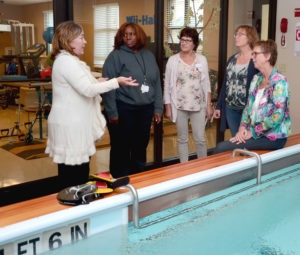 Three medical professionals who work at long-term care communities in the Netherlands spent two weeks at the A.G. Rhodes Homes in October to observe similarities and differences in how the United States and the Netherlands provide care for older adults.
The three visitors work for Marga Klompé, a non-governmental organization that operates nursing homes and assisted living facilities in the Netherlands. They observed operations at A.G. Rhodes, and exchanged best practices with staff.
One observation that the guests noted was the high level of interaction between residents and staff at A.G. Rhodes.
"Everyone knows the residents by name," said Ellie Jetten, a Medical Doctor at Marga Klompé.
The visitors also commented that management-level staff in the homes are accessible to residents and other employees.
"The administrators-they are walking around in the homes and give compliments, and they ask questions," said Kitty te Moller, a Physical Therapist.
"They are small things, but they are so important," said Grada Lenderink, a Registered Nurse.
The guests also witnessed the benefits of A.G. Rhodes' Music Therapy and Horticultural Therapy programs, and think that they could incorporate some elements of those programs in their organization. Additionally, they thought it was positive that the various therapists all work in the same area, and could easily share information and coordinate care plans.
This visit followed a trip that several A.G. Rhodes staff members took to the Netherlands last year, with a similar purpose of observing how they care for older adults. In the Netherlands, for example, one person serves as the primary caregiver for a group of six long-term care residents, versus the traditional U.S. nursing home model where a caregiver is assigned a specific task for a large number of residents.
"There are less staff, but the nurse takes care of six residents, and she does it all: the medication, the food, the activities, talking to the doctor and talking to the family," Jetten said.
The visitors agreed that their staff respond positively to having additional responsibilities.
"In giving the nurse more responsibility, they have more feelings toward the patients," Lenderink said.
Additionally, the visitors said that while they don't have very large group activities, they have small groups of residents spending more time together doing everyday tasks, and this brings a sense of camaraderie among the group.
"In Holland, activities are more small scale. For example, they read together," Lenderink said.
Both organizations talked about the important role of volunteerism, which is especially prevalent in the more rural areas where Marga Klompé facilities are located.
"It's a part of our culture to help each other—to help your neighbors," Moller said.
These were just a few of the many observations shared among staff from A.G. Rhodes and Marga Klompé. The relationship between the organizations will continue to provide valuable insights on how both countries can best care for their growing populations of older adults.